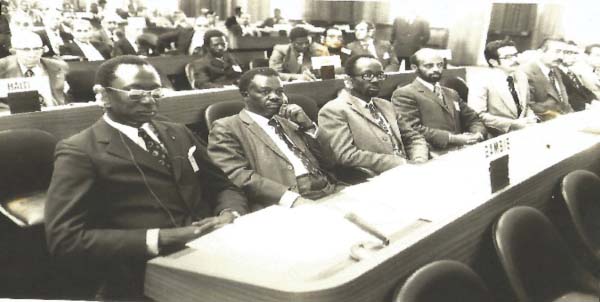 I would like to first and foremost convey my heartfelt appreciation to the Njie Family for according me the opportunity to carry this task. Public speaking or carrying out duties in the limelight is not something that I do. My persona reads 'introvert'. Itis therefore in humbleness and in hope that I do it justice by beginning to describe to you the life of a wonderful man who has not only left a mark on humanity through his dedicated professional life but also as a devout Muslim, family man, neighbour and friend. But from a totally egoistic point of view, a Namesake (Toma) I hold dear!
In the next couple of minutes or so, I would have described to you what can merely be a drop in the ocean, the achievements of this man: Dr A.B. Hatib Njie - MB ChB; MSc (MCH); MRCOG; FWACS
Dr Hatib Njie was born in Bathurst (now Banjul) in 1938. He obtained his medical degrees of MB ChB from the University Of Bristol School Of Medicine in 1967, and undertook specialisation training in Obstetrics and Gynaecology in the Professorial Units of the University of Bristol and the Royal Postgraduate Medical College, Hammersmith Hospital, London respectively.
He attained Membership of the Royal College of Obstetricians and Gynaecologists in 1972 became of Fellow of the West African College of Surgeons in 1975 and in 1980 obtained a Master's degree in Public Health from the University Of London Institute Of Child Health, Great Ormond Street, London, specialising in Mother and Child Health.
Dr Njie returned home to The Gambia in 1973 rising to the rank of Senior Consultant Obstetrician Gynaecologist at the (then) Royal Victoria Teaching Hospital.
The Singhateh / Njie family ties were established in 1974. The, then Minister of Health was my father, Alh Kalilou Singhateh. Having returned home from a fertility treatment in London with my late mother, Dr Njie indefatigably and competently oversaw the prescribed treatment.
With the help of the Almighty, I was born in December 1974. The family decided that I should be named after Dr Njie. When this was announced in Njiekunda at Clarkson Street, Hon Alieu Badara (the then Minister of Foreign Affairs) was very pleased with the decision.
Hon A B Njie had a meeting with his kids and sons-in-law to inform them of the honor bestowed on the family and said from that day, my father was part of his family. All his sons- in-law came to attend the naming ceremony. Alh M B Jallow & family, Alh Dawda Tim Jagne & family, Alh Joof & family were all present to grace the occasion.
The friendship blossomed as they worked within the Health Department. Please see photo of a foreign trip representing The Gambia at the WHO General Assembly in 1976.
Regrettably our paths did not cross till years later, as my father eventually sought international appointment with UNESCO, Paris in 1978. Dr Njie moved to the Ministry of Health in 1980 as Assistant Director of Medical Services and to Director of Medical Services in 1985, in which posts he became intimately involved in the roll-out of the Gambia's first Primary Health Care Action Plan.
Dr Njie was seconded to the World Health Organization in 1989 first as Team Leader of the reproductive and child health inter-country support team in Bamako, Mali, from where he was transferred to the WHO Regional Office in Brazzaville, Congo as the Regional Adviser on Reproductive and Child Health in 1990. From 1994 to 2000, he held the post of WHO Country Representative in Uganda and between 2000 and 2002 the position of Senior Policy Adviser in the Office of the Director General in Geneva.
Our paths crossed in 2013, when I was on holiday in The Gambia. We had a good chat. Both our schedules dictated otherwise and we were unable to meet.
Sadly, the next instance was when I heard about the news of his untimely death. I made all efforts with the assistance of my wife to track down a contact number for the family in the UK. We were unable to speak to the family but were able to confirm prayer times with Imam Mohd Achi Gassama. I attended the prayers at Whitechapel, London along with my wife and little brother. May his soul rest in eternal peace.
The most important paradox of life is 'Time'. When Time elapses, it cannot be regained nor reimbursed, except if it is used wisely.
In the name of God, Most Gracious, Most Merciful
By (the Token of) Time (through the ages),
Verily Man is in loss,
Except such as have Faith, and do righteous deeds,
and (join together) in the mutual teaching of Truth,
and of Patience and Constancy.
translation by Abdullah Yusuf Ali
As we commemorate 7th day charity today, I pray that Allah SWT grant him Jannatul Firdaws.
Hatib Singhateh
London
Read Other Articles In Article (Archive)