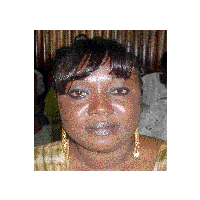 The trial of former Nominated Member of the National Assembly Oley Sey and Abdou Rahamani Bah, the coordinator of SulaymanJunkungJammehNursery School in Abuko, resumed yesterday at the Banjul Magistrates' court before Magistrate Lamin George.
At yesterday's hearing, Lawyer Lamin Camara, defending, applied to the court to summon the Director General of Gambia Radio and Television Services (GRTS) to provide the court with the video-tape of the presentation ceremony of the money in question as well as make available the reporter who covered the event.
He noted that it would be helpful that the court be provided with these as he termed them as material evidence.
He said both PW1, in the person of Yankuba Colley, the Mayor of the Kanifing Municipal Council and PW3 specifically mentioned before this court that those who were present at the handing over ceremony included the GRTS crew.
He added that is why it is important for the tape to be produced before the court since the entire handing over proceeding was said to be recorded by the GRTS.
However Cadet Inspector Keita, prosecuting, objected to this application, adducing that counsel was relying on section 117 of Criminal Procedure Code, but noted that the question here is whether the tape is available and hence told the court that the counsel's submission was not genuine.
The presiding magistrate, Lamin George, said that after carefully listening to both sides he found that the defence's application was not relevant and consequently overruled the application.
The case has been adjourned to 22nd October 2008 for continuation.
Read Other Articles In Article (Archive)