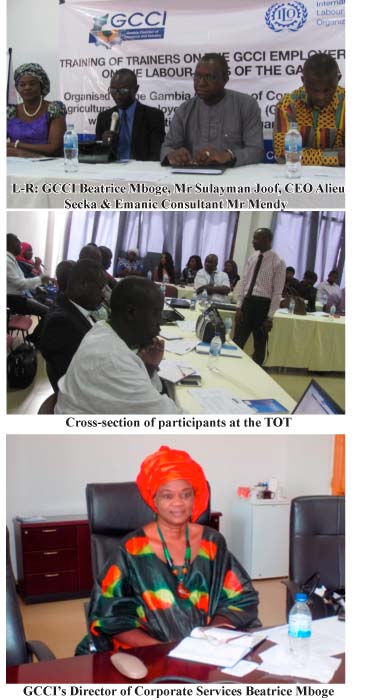 The Gambia Chamber of Commerce and Industry, in collaboration with International Labour Organisation, yesterday commenced a two-day workshop on GCCI Employers' Guide on the Labour Laws of The Gambia.

Held at the GCCI Secretariat in Bijilo, the training of trainers (ToT) on The Gambia's labour laws brought together participants from the private sector, including commercial banks, insurance companies, IT service providers and other micro, small and medium enterprises, business associations, trade unions, GCCI Employers' Committee, among others.
"This particular training is the first of two batches of training," said GCCI Employers' Committee chairman Sulayman Joof, in his opening remarks on the occasion.
The training course will prepare trainers towards sensitization and advocacy on behalf of labour/Industrial relations within the private sector, and also equip trainers on the various Acts and how they should be in congruence with workplace policy.
"You as direct beneficiaries of this training are expected to train employees of your respective institutions or associations on the lessons learnt and best practices," Mr Joof said.
"I hope that this training will be a very interactive session, and I also encourage you to share your experiences as it relates to topics being discussed."
He said GCCI, as a monitoring and evaluation mechanism, will conduct consultative meetings or peer visits with trainers to generate feedback on the aftermath of the training.
He added: "GCCI and its Employers' Committee will continue to play its advocacy role, as well as continue to organise sessions such as these for private sector businesses.
Mr Joof commended the ILO office for the support rendered in organizing the training course, which "I believe will be beneficial for employers as well as employees".
The GCCI Employers' Guide on the Labour Laws of The Gambia was developed by GCCI in collaboration with the International Labour Organisation and through the engagement of the services of Emanic Consulting Company.
The Guide, which was launched in May 2016 at the GCCI Secretariat, summarizes the various Acts (Women's Act 2010, Labour Act 2007, the Social Security Act 2010, etc.) that encompass the employment laws of The Gambia "applicable to businesses, the public sector and all employees".
"However to further ensure that the contents of the guide are implemented by Employers and as part of efforts to encourage workplace rules and policies, this TOT was proposed by the GCCI and supported again by the ILO," Mr Joof.
In his welcome remarks, GCCI CEO Alieu Secka said the Chamber will continue to provide essential services to its members, including services pertaining to industrial and labour matters.
He appealed to the participants to make the best use of the training course to be able to effectively pass on the knowledge and benefits to others.
GCCI's Director of Corporate Services Beatrice Mboge, who chaired the function, advised the participants to fully cooperate with the resource persons of the training course. Sampeire Mendy, a management consultant of Emanic Consulting Co Ltd, is one of the resource persons.
Read Other Articles In Article (Archive)