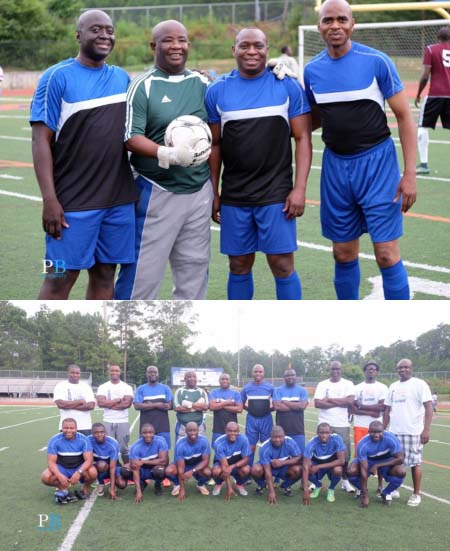 Hundreds of St. Augustine's and St. Joseph's Alumni gathered in Atlanta, Georgia in the United States last weekend for their first International Alumni Reunion.

With both Principals from Banjul and flown into the States by the Alumni Organization the stage was set for an historic weekend.
The weekend kicked off on Friday evening with a welcome reception and awards night.
In that ceremony past athletes and educators were honored for their services to the school. The event which brought together generations of athletes was climaxed by singing of the St. Augustine's High School fight song RECTA SAPERE.
As one reveler confided, "It was nostalgia at its best. To see all these past students gathered under one roof and sang so well the song that we all believed in was quite sobering."
Rightfully so, it was solemn and dignified. The place went serene when the award named for the distinguished St. Joseph's Alum, Dr Ya Harr Majaga Njie was presented to the Principal of St. Joseph's Ms Kippy Coker.
With the Catholic song, "DI NA LA GIS E BES", playing in the background, many tears flowed, as her mates recalled this academic giant and loving classmate that went home too soon.
The great long distance twin brothers, Peter and Paul Ceesay were in the house to be honored, and so were Marie Louis Mendy, Oumie Andrews, Kebba Jow, Rohey Sonko, Aziz Corr, Ann Therese Ndong Jatta, Olga Davis, Peter Prom and many more.
The West African Masquerade Hunting Society (WAMS) also did their part in bringing the house down with a great performance.
On Saturday morning, a symposium chaired by renowned Gambian academic Dr Malanding Jaiteh was held. At the symposium, the two Principals, Fr. Bruno Toupan and Miss Kippy Coker gave the Alumni Organization a picture of what transpires in the schools today.
They both encouraged the Alumni Organization to work harder to support the efforts that are being made presently to elevate the two schools to where they once were.
For his part Fr. Toupan encouraged the Alumni to come together and rally for the cause citing the school "was your foundation and giving back would be appropriate and timely."
Miss Coker thanked the Alumni group citing this was unheard off. She assured them of her support and that of the Board of Governors in this journey. Another Saints Alum that took part in the symposium was Dr Lamin Conteh.
Conteh called on Alumni all over the world to join the Alumni bandwagon and do their part to resurrect the glory of the two schools. This he said is an obligation. This was followed by a poolside Barbeque hosted by Mary Ndure Goswell.

To be continued
Read Other Articles In Article (Archive)