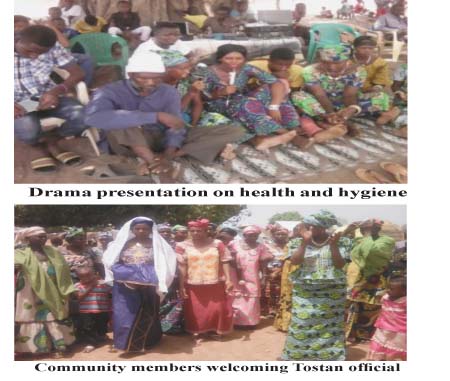 Ms. Tako Baldeh, a Tostan participant who has undergone Tostan-UNICEF Community Empowerment Program (CEP) for three-year, has affirmed that the intervention of the grassroots NGO, Tostan, has drastically reduced the menace of domestic violence within their communities.
She said they now apply the problem-solving processes that they learned during the programme to address problems among and within communities.
She expressed satisfaction with the interventions of Tostan International The Gambia, an NGO operating in the region.  She acknowledged the fact that the intervention of the organisation in the region has contributed immensely in the reduction of domestic violence, child and forced marriage in Upper River Region.
Madam Tako made this remark in Kundam Foday village in the Tumana District of URR during an interaction between the community empowerment program beneficiary communities and the press held at the village square recently.
The interaction was meant for the media practitioners to have firsthand information on some of the activities of Tostan International The Gambia on the ground: how has the project empowered the local communities especially women in the area, and some of the success stories of the NGO.
According to her, the community empowerment program covers several other modules including democracy, good governance, human rights and responsibility, SMS texting, health and hygiene, among others.
But to her, problem solving processes module is key as it integrate and unite families and communities within the district.
She noted that after going through CEP, Kundam Foday village was able to form a mediation committee that is working daily to ensure that any form of dispute or problem within the village or within villages is addressed by the said committee amicably.
Ms Baldeh hailed Tostan-UNICEF community empowerment program for "bringing about positive changes" in the lives of local people.  She also called for expansion of the program to other communities.
Fanta Jawo, Community Management Committee (CMC) coordinator, also affirmed that the intervention of Tostan in the region has strengthened mutual understanding among the villages in the area.
She appealed to UNICEF and other development partners to support Tostan to extend the program to other villages in the region with a view to ensuring that every community in URR benefit from Tostan.
The chairman of the Village Development Committee, Bakary Baldeh, said the coming of the project in the village has complemented their efforts in problem negotiation and has also reduced their workload.
Fatou Mballow also expounded on the achievements of Tostan in the region.
"After the training, Tostan supported us through a microfinance project to give out loans to each member and support each other.  In fact, we have opened a bank account with one of the banks in Basse," she remarked.
Read Other Articles In Article (Archive)