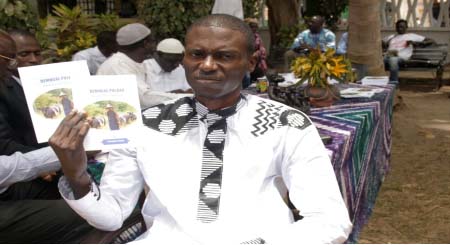 'Demngal Pulaar', a book that attempts to explain the grammar, syntax and structure of Fula language spoken in The Gambia, was launched yesterday at the National Museum in Banjul.
Speaking at the launching ceremony, reviewer of the book, Sedia Jatta, a retired linguist, said the book is "excellent and fantastic" and it will help in the preservation of the indigenous African languages.
He said Africans, Gambians in particular, should be proud of the efforts made by the author in writing the book because such initiative is "the only way to preserve our culture and language."
Matarr Baldeh, a retired linguist, said the author has taken it upon himself to preserve the Fula language as a way of preserving the nation's culture.
He noted that most of the people in the diaspora speak foreign languages than their own native dialects and that "is killing the culture of languages in our country".
Mr Baldeh hailed the author of the Fula book saying writing such a book is a step in the right direction.
Ousman Sowe, president of Fulbeh Africa Association, said the association was founded on social media four years ago but it was subsequently registered in The Gambia as a charitable organisation.
The main objective of Fulbe Africa, he said, is to preserve and promote the Pulaar language and traditional practices and values.
"Our native languages are very much vulnerable and if efforts are not made, our languages will be at risk of extinction," he said.
Mr Sowe said Pulaar language, though one of the most widely spoken in languages in West Africa, is currently facing gradual decline.
"For this reason, the language is listed by UNESCO as an endangered language among other African languages," he explained.
"To maintain and preserve our future generations, we all need to ensure that our languages are written and taught in schools throughout the country."
Sowe emphasised that it is about time that teaching and learning in schools are done in local languages.
He noted that the book that was being launch was a show of commitment on the part of the author in maintaining the local languages in a bid to preserve and promote culture.
Amadou Sowe, author of the book, said he undertook the writing of the book as a way of preserving and promoting national languages of The Gambia.
He said the book will be useful in helping both Pulaar and non-pulaar speakers to improve their understanding of the Pulaar language.
Read Other Articles In Article (Archive)