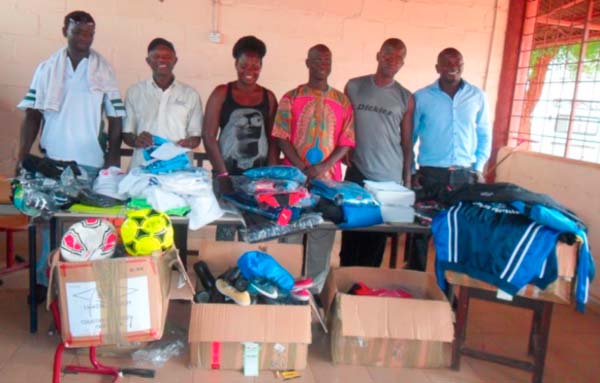 Tono Hernandez, President of Deaf Sports at Spain Tenrife has supported the Gambia Deaf Sports Association with sports materials.

The materials include football boots, footballs, basketballs, football jerseys, basketball jerseys, caps, water bottles, first aid boxes, bags for footballers, track suits for officials and shirts for committee members.
Speaking at a presentation ceremony held at GADHOH Headquarters yesterday, Tuesday 22 August 2017, Lamin Ceesay, president of Gambia Deaf Sports Association, said they have been trying hard to get the materials, and did seek support from a lot of people. They are therefore "very happy" to have got someone out of The Gambia willing to help them, he said.
On the other hand, Mr Ceesay said, they feel somehow discouraged because the materials or support was something they were expecting from their Gambian people. "Even we knocked a lot of doors we could not get support from our people in the country," he said.
He appealed to Gambian people to support members of the community of the disabled in The Gambia as that would encourage and give them peace of mind.
According to him, the materials will help in developing deaf sport in The Gambia because some of the materials could be distributed to their regional football clubs across the country for them to organise their own championships.
He said they usually stage a national championship where all the regions will be represented and as such that needs financial support, because staging such a competition requires a lot of money.
Ceesay stated that with support they can do a lot of things as they are not only involved in male sport; they are also in women sport in their football, volleyball, basketball, cycling and athletes teams.
He thanked the donor for the gesture, saying the materials will be used for the right purpose.
He also thanked Government through the ministry of youth and sports for their open door policy towards them, and "their assurance that we are all equal in terms of sports development in the country".
He also urged them to introduce an all-inclusive sports policy as sport is for everybody.
Musa Colley, Deaf Scorpions national team coach, appealed to Gambians, especially government, ministries, and football stakeholders to support persons with disabilities because they also want to contribute their quota towards sports development in the country.
He said they need sports materials that can facilitate their participation in sports development in The Gambia, saying: "If we are not supported by our fellow Gambians it will be hard to get support from outside the country because they will want to see what we are doing locally as well as the opportunities available nationally to be able to support us."
He pointed out that the deaf community are participating in a lot of regional competitions.
They recently returned from Mali to where they travelled by land, which was very hectic.
He said they have seen the Gambia Football Federation spending huge sums of monies on non-deaf people who are not delivering results, adding that it will be important for them to consider deaf sport financially, which could bring the country the desired results.
"If deaf people are supported they will excel," he said.
Ndey Ceesay, committee member of the Gambia Deaf Sport Association, also expressed appreciation to the donor, saying they paid a lot of money to get the materials to The Gambia.
Read Other Articles In Article (Archive)