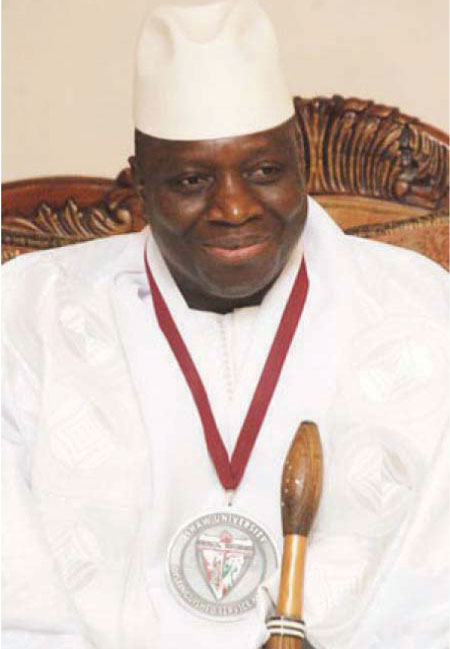 Thousands of Gambians Friday marched in Banjul to show solidarity with President Yahya Jammeh for his stance against the 17-point demands by the European Union.
Marchers including men and women from all walks of life, marched from the Arch 22 to State House in Banjul, with banners saying "No to EU demands", "We will never relent", and "You can't buy us Gambians".
Alhagie Saihou Sanyang, on behalf of the marchers, presented to President Jammeh a declaration, which among others condemned the European Union for its demands.
Addressing the gathering, President Jammeh described the move as a show of patriotism and true faith in the supremacy of the Almighty Allah.
"I am very grateful that 99% of Gambians are patriotic and they are behind this government and they are God-fearing. Only the Almighty Allah we obey; only the Almighty Allah we worship; and only our country we love, the rest we don't care," he told thousands of cheering supporters.
"I don't think I need to tell anybody Asian, European or Latin American, African or whatever you are, who I am and what I stand for. I am Yahya A.J.J Jammeh, born in 1965 in Kanilai and I was born a few months after independence, which shows everybody that I did not want to be born under colonialism."
He told the gathering attended by cabinet ministers that the same Yahya A.J.J Jammeh that risked his life as a lieutenant in 1994 to liberate this country is the same Yahya A.J.J Jammeh who is here to die for Africa, die for The Gambia and die for dignity.
"There are a lot of Yahya Jammeh's but I'm the only one and only Yahya A.J.J Jammeh and throughout the history of humanity, I am the only Yahya who is a President. I don't have to go further into that, but what I want to assure you is this: I believe in the Almighty Allah. The destiny of this country, its socio economic development can only come from the Almighty Allah and implemented by Gambians the way they want it," he added.
He further stated that "If in 1994 when Gambia was a very backward and dilapidated country, I was ready to die for The Gambia, today after 18 years of progress, I am ready to die now for The Gambia."
The Gambian leader also told the gathering that "to the few cockroaches that are supporting them, and for whom these demands are made; let me make it very clear that this country will be defended to the letter, and any cockroach who wants to interfere in the peace and stability of this country, be ready for the consequences. I don't care what they say!"
"We have seen your declarations on the Western-backed websites; if you are men and are courageous, come to The Gambia; you will find Yahya Jammeh here," he said, before vowing that if ever he moved from his pledge to die for The Gambia and for Africa, may the Almighty Allah destroy him.
In his view, the EU did not mention anything about agriculture, or education "but all they are talking about is the freedom of criminals".
"Instead of talking about health infrastructure, they are talking about prison conditions. Let me remind the Europeans that there is no word for prison in any of our local languages. There were no prisons in Africa before they came; they brought prisons, and the prisons are here to stay, thanks to their colonialism," he stated.
Instead of talking about how to improve the general health of the Gambians, Jammeh added, they (EU) are talking about homosexuals.
"We Africans move forward and not backwards. If they want the homosexuals, let them collect them if they know where they are, but if I know where they are before the Europeans, I will lock them up. If they want homosexuals, they are welcome to take them to Europe."
Noting that all the laws in this country are in line with the Constitution, which was promulgated after a referendum, President Jammeh emphasized that he is not a racist.
"Any country, any international corporate body, any international organization is welcome to The Gambia to dialogue with respect and dignity, as long as this so-called dialogue does not insult our integrity and independence.
"I am not anti-East, West, North or South, but I am anti-imperialism, anti-arrogance, anti-racism and I will always remain anti-hypocrisy, because as a Muslim, I should not work with hypocrites," he stated.
Meanwhile, among the demands by the European Union are the upholding of the moratorium on the death penalty with immediate effect, revision of laws on freedom of expression and media regulations within 24 months, provision of information regarding the recent executions, including location of burial of the bodies to the families.
Read Other Articles In Article (Archive)