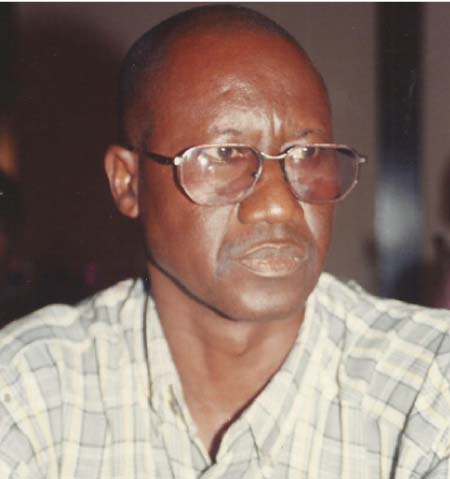 Dodou 'Capi' Joof, President of the Gambia Athletics Association (GAA), has described the loss of Sait Mbye and Alagie Samba Mbye as the 'saddest moment' in the history of the association.
Mr Joof, who was speaking to Pointsports at his home in Bakau yesterday, added that this is because they have never had such a sudden death.
He said Sait Mbye was one of their technical officials, a former athlete, and a brother who was dedicated to the service of the youth.
The late Sait Mbye was born on 13 April 1945 in Banjul and attended Muhammedan Primary School, then to Crab Island Modern Senior Secondary School, he recalled, adding that he later joined the Yundum College now called Gambia College where he graduated before being sent to Sierra Leone to further his education.
He returned and worked with the then Ministry of Education and Sports and was posted at different areas in the country before retiring, he further said, noting that before his retirement he was an active athlete who represented The Gambia in many inter-Senegambian athletic championships which was called the Senegalese youth week which used to be an event in which The Gambia was always invited to participate in all events (football, athletics, basketball).
The GAA President said the event used to be very interesting as it would also coincide with Senegal's Independence.
The late Sait Mbye excelled from there and was selected in 1973 to represent The Gambia at the second All Africa Games in Lagos after which he retired from athletics and became an active starter.
"I remember in 1991, I sent him to Nairobi to attend a course and since his return he was very active," he also recalled, adding that he was fortunate to be employed as Assistant Director of Youth and Sports and later to Director of Youth and Sports following his retirement as a teacher.
Since his retirement as Director of Youth and Sports he was working with the Gambia Athletics Association (GAA), he stated, adding that last year during the Primary Schools sports he was with them but unfortunately this year he couldn't due to illness.
"Sait Mbye was really active, dedicated, obedient, and honest," he said of him, adding: "Wherever he was people would start to laugh as he was jovial and down to earth'.
Commenting on the death of Alagie Samba Mbye, Capi Joof said the late Alagie Samba Mbye was born on 31 November 1941 and was also an active member of the GAA.
He was an accountant by profession and joined the GAA as a technical official, he added, saying: "I remember in 1988 he was sent to Senegal where he attended a technical officiating course where he came out first position beating all Senegalese and from there his interest in athletics grew stronger." 
"He was then sent to Nairobi's high performance centre to attend statistician course and became the statistician of the GAA and also one of the recorders," he also recalled, noting that in every competition he was on the table calculating the results and recording the competition.
"The late Alagie Samba Mbye was elected as treasurer of the GAA and served us for over 15 years," he went on, saying: "We will miss them a lot."
"He was hardworking and very friendly but very firm," he also said of him, saying it was not easy to take a dalasi from him with producing documents or signing.
He prayed for both of them to the Almighty Allah to grant them the highest place in Jana.
"He was a pious Muslim involved in so many Muslim organizations, Diras, Mosque committees; even before his death he was from a Quranic recitation,"  he stated while wishing their families God's favour, as well as peace and patience as what has happened  is the will of God.
Read Other Articles In Article (Archive)