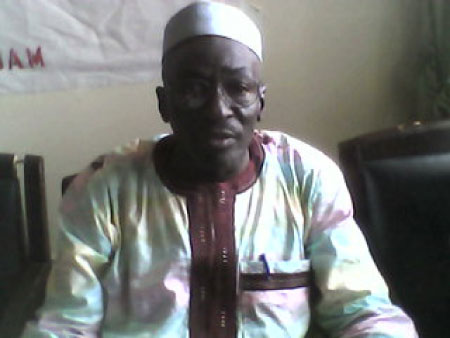 Seven Gambian athletes currently in Senegal training will represent the country in a day international athletic completion to be held in Nigeria on 13 June 2014.
Adama Jammeh, Omar Jammeh, Assan Faye, Tijan Keita, Abdoulie Asime, Alieu Joof and Alagie Sonko will represent the Gambia in the grand pre-international competition to take place in Nigeria.
Dodou Capi Joof, President of the Gambia Athletics Association yesterday told this reporter in an interview that, he met with the Nigerian Athletics Association President in Cameroun and discussed with him the possibility of the Gambia taking part in the competition.
Mr Joof added that he also explained to him the financial difficulties they also faced despite wanting to participate in the competition.
The Nigerian Athletics Association President then promised him to pay for the air tickets for the 7 athletes including him (Dodou 'Capi' Joof) but he Capi told him to pay for the 7 athletes and the coach.
'I wrote and sent him the list of the athletes and coach immediately I returned to The Gambia', he stated, saying: 'on Sunday the Nigerian Athletics Association mailed him saying they could pay for the 7 athletes and myself but that I have to pay for the coach, I told to pay for the athletes and the coach, I will find my own ticket because the athletes cannot go without their coach'.
'I am also managing to see how to get an allowance of a minimum of D3,000 for each athlete', he stated, saying the GAA is broke at the moment as they are yet to receive their subvention from IWF which is about eight thousand dollars.
'I will do whatever humanly possible to make sure we participate in the competition,' he remarked, noting that he have no doubt the athletes would do well.
The athletes will participate in the 4 by 100 and 4 by 400 race, he went on, saying there will be prizes for the competitions.
'What I always say is the athletes are more important than us as officials because without them there will be no officials which is why I told the Nigerian Athletics Association President to give my ticket to the coach,' he remarked further, noting that they are expecting a medal in the competition as they have a better team this time who are training in Senegal.
'I know it will be tough but the athletes are in top form," he mused, saying they will be leaving today.
He also took time to thank Pap Saine whom he described as one of the best sports journalists and the most experienced in The Gambia.
Read Other Articles In Article (Archive)