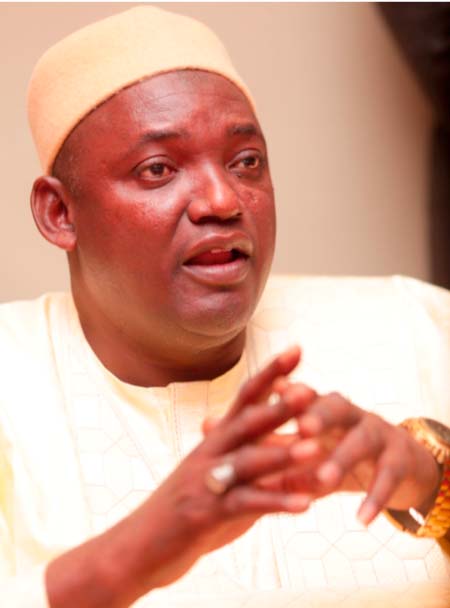 President Adama Barrow has said there can never be peace when there is no justice, and there cannot be justice when there is no freedom of expressing an opinion.

He made this remark yesterday during the swearing-in of the new Chief Justice of The Gambia, Hon. Hassan B. Jallow.
"It was in this light that the new Gambia welcomes its brains in rebuilding it and it is, therefore, not a surprise that honourable chief Justice Hassan Jallow has decided to join in this crusade," Barrow said.
The Gambia is going through a historic transition in establishing a modern democracy, where respect for human rights and dignity of the person is the norm, the president noted.
He said further Hon. Jallow has served The Gambia in different capacities, and it is expected that the experience gained locally and internationally will take the Gambian justice system to higher heights.
"Twenty-two years of injustices and abuse of power require knowledge to ensure that justice is seen to be done, as well as reconciliation to give peace a chance and this is why the expertise and experience of Chief Justice Jallow is needed," President Barrow went on.
He continued: "His experiences gained during services under the International Criminal Tribunal in Africa and beyond will be useful in The Gambia. We can forgive, but we cannot forget in ensuring that justice prevails.
"I take this opportunity to congratulate Chief Justice Jallow, and wish him the best in undertaking this important task in our nation-building.
"As we have pledged to engage in institutional and legal reforms, I urge you to work hard for us to achieve our goal as a government, and to leave a legacy of sustained institutions, laws and procedures."
This, President Barrow noted, will transform the country into a fully-fledged democracy, and "facilitate social, economic and political development for our people in the new Gambia."
Read Other Articles In Article (Archive)