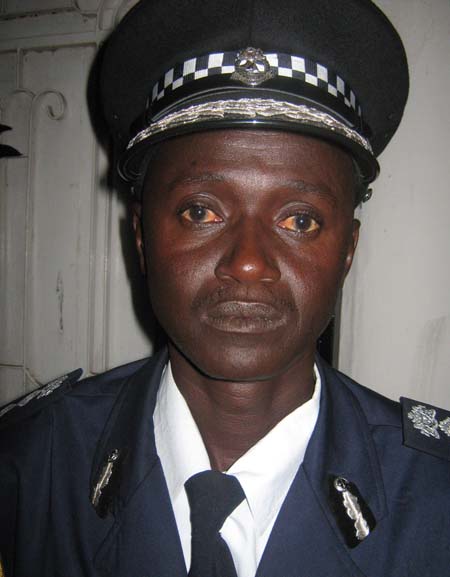 After more than one year of a legal tussle, former police chief Ensa Badjie, charged with robbery related offences, will soon know his fate at the high court in Banjul, which has set 29th July as the date when it will deliver judgment in the case.
Badjie, already on another trial alongside two other senior military officers, under a 51-court charge including drug related offence, corruption and theft, will know his fate together with former Chief Superintendent of Prisons, Ali Ceesay.
Indicted since May last year, Badjie is among other crimes accused of conspiring with others "to break into and rob shops, banks and supermarkets between the years 2007 and 2009", and thereby committed an offence.
This latest development came during yesterday's proceedings, after defence counsel BS Touray representing Ensa Badjie, who had applied for the Special Criminal Court to grant him an extension of time, finally completed the filing of his written address before the said court.
However, the deputy director of public prosecution, SH Barkun, objected to his application, indicating that the court has earlier on made it categorically clear that there will be no extension of time in the said matter.
"No matter how brilliant the counsel's address is, it will not amount to giving evidence in the case," Barkun told the court.
Presiding judge Justice Enwa Joseph Ikpala after listening to both parties overruled the defence counsel's request, and subsequently set aside 29th July as the day he will deliver his judgment in the case.
Recast
Readers could recall that the duo are standing trial on different charges, ranging from conspiracy to commit a felony, robbery with violence, receiving stolen property, aiding and abetting, robbery, conspiracy to commit misdemeanor, aiding prisoners to escape, official corruption, conspiracy to defeat justice and interference with witnesses, deceiving witnesses, offences relating to judicial proceeding, and using criminal charms, among others.
The prosecution in order to prove its case called several witnesses to testify, including one Soriba Condeh, a convict serving a jail term of 14 years at Mile 2 prison, Pateh Jallow, former deputy chief of the National Drug Enforcement Agency (NDEA), Muhammed Sillah, a police officer, Muhammed Darboe, also a convict at Mile 2, and Baba Tundeh Khan proprietor of the famous 'City Pub' Bar and Restaurant also called as prosecution witnesses were, Fatou Jato Mendy, Salieu Baldeh, another convict serving a jail term, police superintendent Landing Bojang, officer commanding Serrekunda Police Station, police inspector Abdoulie Sowe, officer commanding Criminal Investigation Department (CID) Bakoteh  Police Station, and Dodou Janneh, alias Do Boy, a murder convict serving a death sentence.
The then Director of Public Prosecutions, Richard N. Chenge, had previously filed a 17-count charge against the former Inspector General of Police, Ensa Badjie, CSP Ali Ceesay, and three others, namely Omar Jahateh, a police officer, as well as Kemeseng Kolley and one Ismaila Colley, both prison officers. The charges against the two Kolleys and Jahateh were later dropped.
Ex-police chief Ensa Badjie and his co-accused first appeared at the Special Criminal Court on Friday 21st May 2010, where their plea of not guilty was recorded, following their denial of the charges preferred against them by the state.
The ex-police chief is presently facing other criminal indictments at both the lower court and high court in Banjul.
Badjie is involved in another trial relating to abuse of office at the Banjul Magistrates' Court alongside Tijan Badjie, former head of police prosecutions Banjul division.
Badjie also got entangled with another D20 million civil suit filed against him by a local business tycoon. This case was, however, struck out by Justice Lamin Jobarteh.
Read Other Articles In Article (Archive)