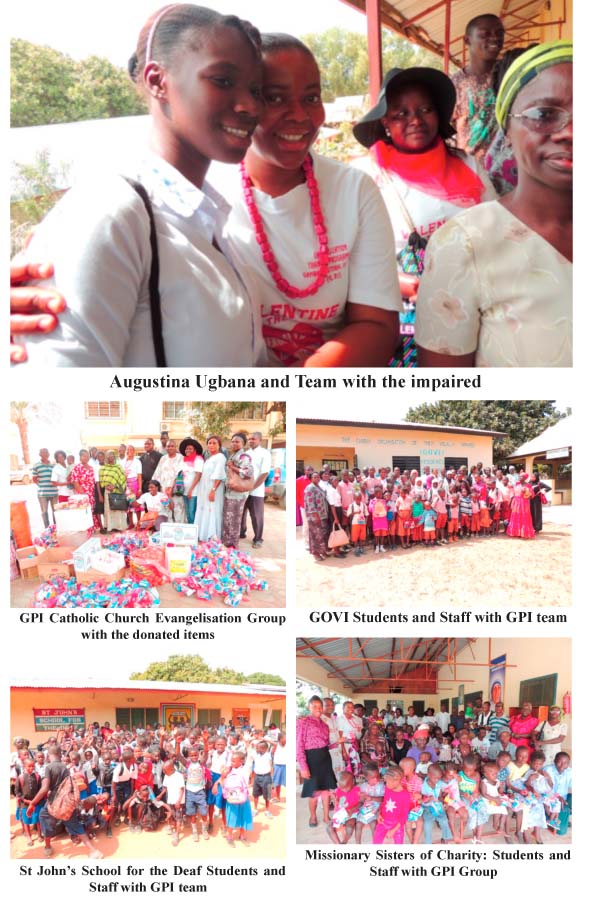 Sister Augustina Ugbana and members of the Catholic Evangelisation Group of the Gambia Pastoral Institute (GPI) on St Valentine's Day, Tuesday 14 February, extended a helping hand to needy children of various learning centres across the Greater Banjul Area.

The team of evangelization sisters and brothers, on Valentine's Day, reached out to children at GOVI, St John's School for the Deaf, and Missionary Sisters of Charity at Bakoteh with foodstuffs and clothing materials in celebration of the life of St Valentine and his true love of God.
Speaking at the various centres visited, Madam Augustina Ugbana, initiator and coordinator of the event, told the beneficiaries that their team's mission to them was to celebrate the true love of God, and expressed how St Valentine symbolizes true love.
They, therefore, visited the children to share with them in demonstration of their love and concern for especially children with physical difficulties.
Sister Augustina, who is also founder of Youth Moral Education Foundation International (YOMEF), said the whole essence of Valentine's Day is nowadays being misconstrued as many people, particularly young girls and boys, use the occasion to involve in illicit romantic love, such as making it a day for boyfriend and girlfriend illicit love affair.
The day is about a man called St Valentine who loves God, and was helping the poor and the less privileged in his community, as well as preaching to the rich to help the poor and share true love of God with them.
Because of what he was doing, St Valentine was killed on 14 February, which is why the day has been set aside to remember him and celebrate his deeds and life.
This is also for people to emulate his actions of sharing the true love of God with the less privileged in society.
Sister Augustina said St Valentine did not encourage sex out of marriage.
Their mission, therefore, to the children is to share and pray with them so as to show the true love of God with all of them.
She said God loves every human being, and as children they should not consider themselves really unfortunate and less privileged, as God is always with them.
She advised the children to be listening to their teachers in class, and be praying for the sick at Missionary Sisters of Charity and other similar centres across the country.
"In the presence of God all are equal," she said.
In his remarks during the visitation, Livinus Ekechukwu told the children at the centres visited: "The way God loves us is the same way he loves you. Never think of yourselves as not important, as you are all precious in the eyes of God and you are his number one interest.
"In as much as you are alive, there is a God who is taking care of you," he said, urging them to extend the love of God to everyone around them.
Fatou Secka, one of the visually impaired women at GOVI, in her brief remarks, thanked the team for remembering them and reaching out to them.
She said: "In the past when you are visually impaired, for instance, people tend to neglect you; but thank God that now people consider and involve us."
She said she is hopeful that the partnership would go from strength to strength.
Students at St John's School for the Deaf also thanked the GPI Catholic Evangelisation Group for the foodstuff and other items given to them.
They said they were very happy to spend such a day with the team, and prayed that God blesses the group with more resources to be able to continually render such help and support to the needy.
Beneficiaries at Sisters of Charity, who are mainly women and children, also thanked the group for the foodstuff, clothes and other items.
Read Other Articles In Article (Archive)