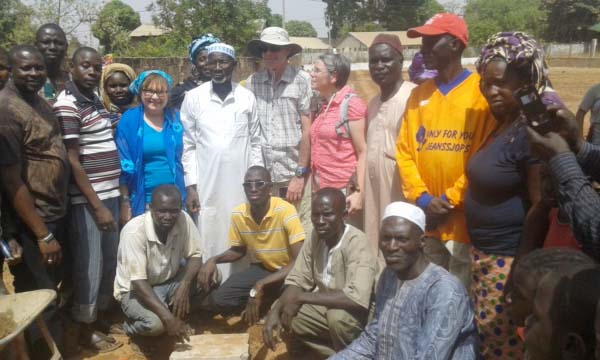 The executive director and founder of Gambia Health Education Liaison Project (Gambia HELP) has commended the community of Kerewan and staff of Kerewan Community Managed Nursery School in the North Bank Region for their steadfastness.
Shelby C Tarutis MPH commended the community and school for the effective implementation of more than D1 million project on vegetable garden, poultry and educational materials.
She made the commendation recently in Kerewan during a visit to the project site by officials of University District Rotary of Prosser Rotary Club – funders of the project – and laying of the foundation stone of poultry project to Kerewan Community Managed Nursery School based in Seattle, USA.
Mrs Tarutis said the project aims to complement nutritional development of children, enhance effective learning and teaching and by extension provide income for the school.
The project was conceived in 2014 but implementation began in 2015 with $6,500 focusing on vegetable and poultry production to support the development aspiration of the schools, she explained.
Tim Straub and Dr Tamera Schille Straub of Prosser Rotary Club GambiaHELP based in Seattle, USA also expressed satisfaction with the level of participation on project implementation.
However, they called on the village development committee of Kerewan to be vigilant to sustain the project.
Dr Tamera Schille lauded the management and staff of Kerewan Health Centre for their commitment and dedication to healthcare service delivery.
She made the commendation during a visit to Kerewan Health Centre by the team and their Gambian counterpart.
Dr Schille assured of her willingness to support the priority areas of the health centre to enhance effective service delivery.
Ensa Camara, national coordinator of GambiaHELP, commended the community for their invaluable support to the project, saying the laying of foundation stone for the poultry project demonstrates the fulfillment of their commitment to strengthen community efforts in health, nutrition and education.
Mr Camara called on the project beneficiary to sustain community participation towards the realisation of set objectives.
Omar Barrow, Officer-in-Charge of Kerewan Health Centre, thanked the visiting Rotarians for their foresight in supporting the health centre.
Momodou Ceesay chairperson of Kerewan Youth Association in the Kombos noted that youth are committed to the advancement of Kerewan in all spheres of development.
He noted that the support in resource mobilisation would contribute to improving lives and livelihood of the people.
Bakary Makutu Ceesay, head teacher of the school, applauded the donors for providing bicycles, garden, poultry, and learning and teaching materials for the school.
He said the support has contributed in facilitating effective learning and teaching.
Other community leaders such as Kemo Jalisira Ceesay, Bai Jawara, Binta Manneh and Ousman Fatty also commended the donors for their invaluable contribution in promoting unity and improving the lives of people.
The community leaders described the intervention as timely, saying it would supplement nutrition and food security.
The climax of the programme was the demarcation of vegetable beds and planting of vegetables by visiting Rotarians and their Gambian counterparts. 
Read Other Articles In Article (Archive)