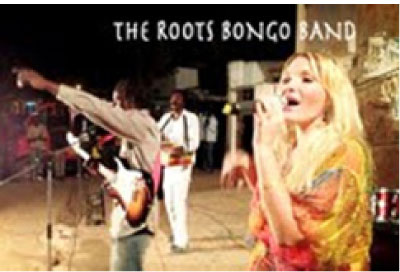 The Roots Bongo Band continues on their 'Kombo Tour 2013' with additional dates added after high demand.
The band is currently touring the Kombo area of The Gambia promoting their debut World-Reggae album 'Leaders of Tomorrow'.
"We decided to play some more shows, and keep them free for the fans," says Nina Beste, the band's female singer.
She adds: "The reaction and turnout of our long-time fans, as well as new ones, was overwhelming so far, which is why we want to extend the tour.
"One of our fans is currently organising a programme for us in Sanyang, and on the 12th of April we will perform at London Corner."
The band has already played in Gunjur and Banjul earlier this year, and they are planning to put out a DVD with footage of these live shows in the next few months.
Roots Bongo Band is the only reggae band in The Gambia performing self-written and composed songs.
For people who cannot make it to their live shows, they also perform live every Friday and Saturday at their own The Roots Bongo Bar & Restaurant in Kotu Layout on Kololi Road.
"Guests get to enjoy live music and delicious African and international food in a peaceful environment," says Joe Hero.
Nina, Joe Hero and Afang Maakangbaa (the lead singers of the band) say they have already headed back into the studio to record additional songs for release by the end of 2013.
For more information on the band and updates please visit: www.rootsbongo.com
Read Other Articles In Article (Archive)