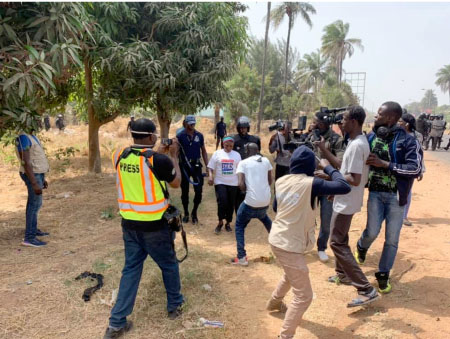 The 3 Years Jotna protest on Sunday turned violent as security personnel clashed with protesters resulting in firing of tear gas to disperse the crowd from reaching Denton Bridge.
Thousands of protesters resorted to throwing stones and burning tyres, sparking confrontation with security as protesters marched from Sting Corner towards Serrekunda. The clash resulted in the revocation of the permit issued by the police who accused the protesters of being violent.
All businesses closed in Westfield and people ran to avoid inhaling the gasses.
Speaking in an interview with some protesters at Sting Corner, one protester told The Point that their intention was to have a peaceful protest until the agreed time and then disperse.
"But before that happens, the security personnel started throwing tear gas to the protesters which eventually turned to violent. The violence is caused by throwing of the teargas. The teargas should not have been thrown," the protester added.
Amadou Ceesay, a protester said they had the right to demonstrate, citing that President Adama Barrow needs to respect the three years agreement with the Coalition.
Sarjo Ceesay, another protester told this reporter that, it was their constitutional right to demonstrate, arguing that Mr. Barrow has failed the agreement he made with coalition partners. "So he should step down."
Reports have emerged that police followed protesters to the swampy rice farms and arrested them.
Read Other Articles In Article (Archive)