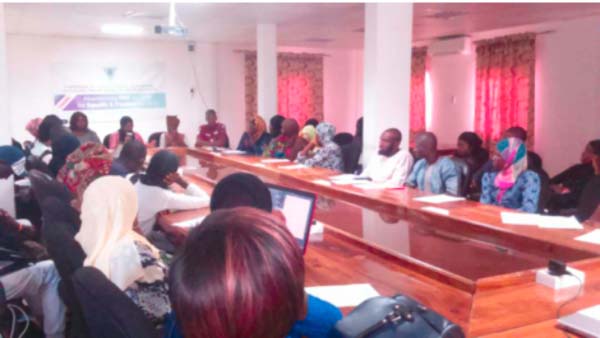 The Girl Generation (TGG) on Friday held a symposium on Female Genital Mutilation (FGM) to commemorate the celebration of Day of the African Child.

The symposium, which brought together young people from different tertiary institutions across the country, was held at the Actionaid Conference Hall in Kanifing.
Declaring the symposium open, Lamin Darboe, the Executive Director of National youth Council (NYC), said the fight against FGM started well before some of them were born.
He said they would continue to appreciate the efforts of their mentors and leaders who have championed it before them, however, they would acknowledge the contribution of young people which led to the banning of FGM in the country.
Mr Daboe said the fact that law has been in practice does not mean that the practice was not taking place in the communities, villages or the neighbouring countries.
He said the banning of FGM was a necessary condition but not sufficient for the abandonment of FGM practices in the communities.
For her part, Oumie Sissoho, TGG survivor Ambassador, said ending FGM in a generation was the responsibility of the young people because the young people have the recipe, power and connection and the commitment to end FGM.
She said in marking the Day of the African Child, they as the girl generation feel that they could domesticate the theme and do something on FGM.
She said the plan may look very simple but they know ending FGM comes with a lot of hard work and commitment.
To that end, she said, there was one agreement across the world that if they want to end FGM by 2030, then the power lies on young people as they are the solution to ending FGM
Another speaker, Mariatou Newlands, an Activist Ambassador at TGG, said their purpose of gathering was to have a symposium on FGM in commemoration of the Day of the African Child.
She said targeting individuals from the tertiary institutions was a way of bridging the gap because there was a gap when it comes to school outreaches, adding that FGM is a deeply rooted practice that lots of individuals cannot take their minds off it.
Also speaking, Modou Lamin Davies, Chairperson of Youth Anti-FGM Network in The Gambia, said it was important to target young people in the fight against FGM, especially young men who are going to be fathers in the near future.
"We cannot end FGM in isolation, we have to come together, and we have our different strengths as organizations and individuals," he said.
Read Other Articles In Article (Archive)