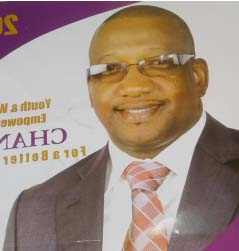 The leader of the Gambia Democratic Congress (GDC), Mamma Kandeh, has told the people of Fatoto and Kulari that it is peace that prepares the ground for development in a country.

Addressing a large crowd in Kulari, Mamma Kandeh thanked the people for the warm welcome, saying their problems have been noted and God-willing, when GDC comes to power, their problems would be addressed.
Meanwhile, in the Upper River Region, the GDC leader told supporters that his party has come to end hardship in the country, while promising to construct the road from Basse to Fatoto to ease the movement of people, goods and services.
The GDC leader said the party is here for peace, as it is peace that would bring development in a country.
He assured the people of the area that his intention is to develop the country, but not to divide people.
Mamma Kandeh further informed his supporters that "our grand grand fathers were here and they died and left The Gambia; so the same thing, we would also die and leave The Gambia. So what is important is to bring peace and develop the country, not for us but for our children and grandchildren tomorrow."
He told his supporters that when GDC comes to power, they would make sure people exercise their rights without fear because he believes that is democracy.
On agriculture and education, the GDC leader said his government would do everything possible to attain quality education in the country, not just to build schools.
"Agriculture is also my priority, and we would make sure that the people of the country would benefit from it."
The communities of Fatoto and Kulari assured him of their support, and promised to vote for him, come December 1.
Also in the villages of Njoben CRR South, Pateh Niamina, Kerr Mahalima, Babou Jobe and Sambang Mandinka, the people there all assured the GDC leader that they would vote for him massively, come December 1.
Read Other Articles In Article (Archive)