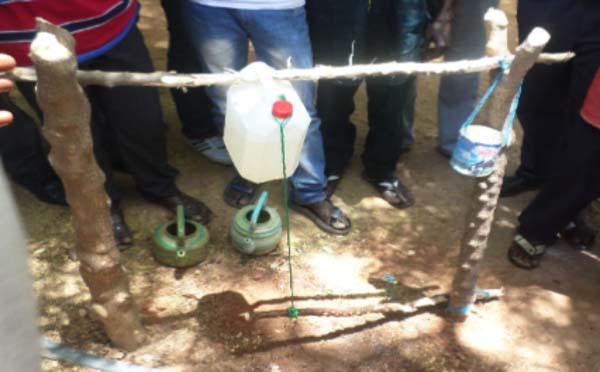 Global Hand-washing Day (GHD) is a campaign to motivate and mobilize millions around the world to wash their hands with soap and water at critical times, especially after using the toilet and before eating.
The campaign was dedicated to raising awareness on hand-washing with soap as a key approach to disease prevention.
Everyone could improve their own health by washing hands with soap, especially after using the restroom and before touching food.
The theme for Global Hand-washing Day 2013 is "The Power Is in Your Hands" because everyone has the power to create healthier communities through hand-washing with soap.
In light of the above, a group of 60 teachers in the Central River Region and Upper River Region was trained on construction of hand-washing stations (tippy taps) for the promotion of effective hand-washing in schools for the prevention of diarrhoeal diseases and other childhood illnesses.
The activity was funded by UNICEF and conducted by the WASH Unit of the Directorate of Health Promotion and Education at the Ministry of Health and Social Welfare in collaboration with Trust Agency for Rural Development (TARUD).
The trained teachers were expected to construct each at least two tippy taps in the respective schools making a total of 120 tippy taps in 60 schools, which will be scaled up to almost all schools in the country by 2015.
Alfred Gomez, programme coordinator of WASH, said participants should have the knowledge and skills to construct hand-washing stations (tippy taps) for effective hand-washing promotion for improved survival, development and protection of children's health.
They should be able to contribute more effectively to WASH in school programming for better WASH impact on schoolchildren.
Read Other Articles In Article (Archive)