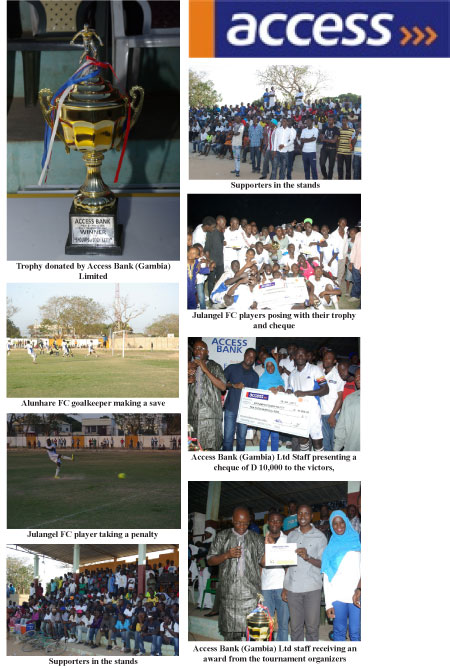 Access Bank Gambia Ltd once again demonstrated its passion for giving back to the community and investing in the youth by supporting the 2013 edition of the "Shoumpou Dooh Katty" final played between local rivals Julangel FC and Alunhare FC on Saturday, 20th April 2013 at the Serekunda-West football field.  "Shoumpou Dooh Katty" is a formal gathering of the Serrahuli ethnic group which organized this tournament with the intention of fostering unity and collaboration amongst the youths of their community in all social and economic endeavors. 
The tournament featured a total of about 20 teams from which Julangel and Alunhare emerged as final contenders for the trophy in an exciting and pulsating final which saw a goal scored in each half. The game was well attended by enthusiastic fans of all ages and from all strata of society who no doubt were thoroughly entertained as both sides gave their all in the quest for the golden trophy. In the end , after a one all stalemate during regular time, Julangel FC emerged victorious on penalties and were rewarded with the Trophy and Cheque of GMD10,000 both donated by Access Bank.
Had one not witnessed the sheer tension evident during the game, the significance of this victory would still have been apparent from the manner in which Julangel FC and their fans merrily celebrated, proudly displaying their trophy and cheque for all to see. Aside from sponsoring this event, Access Bank's unique Islamic account is designed for religious communities in the Gambia who prefer non interest bearing accounts. Islamic accounts as the name implies, are strictly non interest bearing accounts that are specifically designed according to Islamic tenets. This is further evidence of the bank's commitment to delivering quality banking services that are relevant to the Gambian populace.
Read Other Articles In Article (Archive)