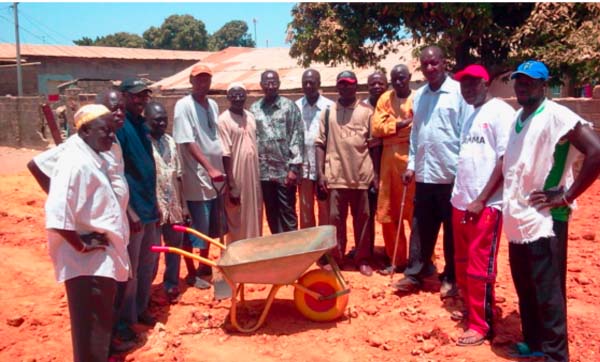 Vision Development Foundation (VDF), through its chief executive officer, Modou Turo Darboe, over the weekend continued road rehabilitation exercise in Latrikunda-Sabiji, Piccadilly linking to Nema-kunku road.
The exercise, which was part of many activities, brought VDF trucks offloading gravel to filling potholes by youths, co-ordinated and funded by Turo Darboe, through his foundation in collaboration with the affected communities.
The exercise, according to the VDF officials, was mainly to address potholes that could cause serious damages to the environment or lead to malaria by stagnant water, and to ensure access to better road usage.
VDF is a non-profit entity established by a Gambian philanthropist, Modou Turo Darboe, who also doubles as its Chief Executive Officer. It is out to mainly support the needy and vulnerable people in society.
Speaking at the exercise, VDF national coordinator Mamadou Manta Jallow explained the readiness of his NGO in rendering its support to the Gambian populace, noting that the VDF under the coordination of the founder Turo Darboe has no boundary in supporting humanity.
He further asserted that road rehabilitation project withincommunities was part of Turo Darboe's effort at ensuring that people have access to better road, clean environment, safe areas and free from malaria and other environmental hazard .
Pa Ousman Fatty, councillor of Latrikunda Ward, expressed delight and appreciation about the exercise, saying the exercise, which attracted various youths and elders within the said communities, was meant to participate in the going monthly cleansing exercise geared towards free malaria and other contamination diseases within the environment people live, by filing potholes that cause stagnant water.
Yerro Njie, Latrikunda APRC ward chairman, said the exercise carried by the VDF CEO was not a surprise to many residents in Latrikunda Sabiji and Piccadilly because Turo Darboe had been very supportive not only of the community of Latrikunda but also of the entire Gambian community.
Talibo Konjira, secretary general of Ward Development Committee and APRC ward mobilizer, Latrikunda Sabiji, also underscored the importance of the road rehabilitation in the environment, saying that during the raining season, women, drivers and passersby find it very difficult to ply the road due to its bad state.
Therefore, he added, Turo Darboe coming up with this initiative was something that every citizen should appreciate, while highlighting numerous assistance or support Turo had been rendering to communities in the country.
Munga Njie, another development officer, also expressed satisfaction and impression with Turo Darboe for his noble intervention in communities, saying his actions are geared towards mainly complement government's efforts under the leadership of President Yahya Jammeh.
He seized the opportunity to challenge other businesspeople, particularly Gambians in the Diaspora, to contribute their quota to nation building.
Read Other Articles In Article (Archive)