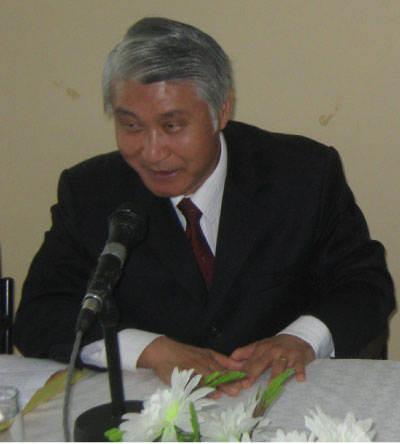 The Government of the Republic of China on Taiwan through its Embassy in Banjul on 7 June 2011 presented a cheque for US$700,000 to the President's Empowerment of Girls Education Project (PEGEP).
The Taiwanese ambassador to The Gambia, His Excellency Dr Richard Shih, presented the cheque on behalf of his government.
The secretary general and head of civil service, Ousman Jammeh, received the cheque on behalf of Gambian government at a ceremony held at his office in Banjul.
In presenting the cheque, ambassador Shih said the funds were meant to sponsor PEGEP, which is a brainchild of the Gambian leader.
According to ambassador Shih, thousands of students are being sponsored by the project across the country. "I am happy to find out that this is the tenth year for my government to sponsor this very important and meaningful project of empowering the girl students in The Gambia," he said.
"It also shows the commitment of the people and Government of the Republic of China on Taiwan to continue to work together with the people and Government of the Republic of The Gambia for the development of the education sector, which is one of the most important areas in national development. "
For his part, Secretary General Ousman Jammeh expressed appreciation on behalf of the Gambian leader, the government and people of The Gambia for the gesture.
PEGEP is a noble initiative of President Jammeh, he said, while thanking the Taiwanese ambassador and the Government of the ROC for always standing by the side of The Gambia and supporting not only PEGEP but also other development initiatives in the country.
Taiwan is not a stranger in The Gambia's development drive as the island nation is always supporting the country in various ways, he said.
He prayed for Allah to continue to reward the good people of Taiwan and their government. 
"We cherish this relationship much as you also cherish to be associated with our small but great country. We pray that Allah (SWT) always continues to strengthen the friendship and cooperation that exist between our two governments," he said.
Ambassador Shih was accompanied to State House by his first Secretary Tom Lee.
Read Other Articles In Article (Archive)