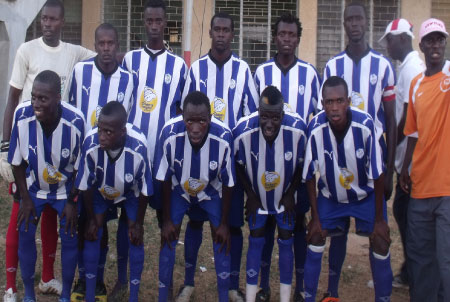 The first round of the 2011/12 Bakau knockout championship is moving ever closer to completion after three weeks of some mouthwatering elimination round at Real de Banjul Football Field at the Independence Stadium in Bakau.
The competition that began with the participation of 24 teams has now been reduced to 10, who will resume their quest of silverware.
The automatic qualified teams from the first round stage are expected to be joined by four other teams hoping to regain their places as best losers with Kachikally given an automatic qualification thanks to the exclusion of Mamakoto for what the authorities called unacceptable behaviours.
Linguere, Julangel, Zuwa FC and Tos Achief might all reclaim their places as possible best losers if recent results continue to go in their favour.
The committee will select four best losers at the end of the first round which will be determined by the number of goals each team conceded prior to making an exit.
The campaign began on Tuesday 15 November 2011 with a thrilling encounter between Bremen Border and Zuwa FC who could not maintain their heroic performances that saw them reach the final of this competition as they did last year.
They eventually lost 1-nil to Bremen with unexpected result that has generated lots of talks about Zuwa FC's recent poor run of bad form which also cost them a place in the League Cup competition amid a shocking penalty shootout defeat to Kachikally three weeks ago.
Zebra, who got off to a scintillating start to both competitions, this term had their title ambition dented following a 2-nil loss to title favourite Milan, who beat them to confirm their qualification to the next stage of the knockout a fortnight ago, while Linguere's disastrous campaign continued with yet another embarrassing penalty shootout defeat to neighbours Late F. Drammeh, formerly called Vietnam Border.
Ron Mango have once again revived their hope of retaining the coveted title when they beat Tos Actief, whose poor campaign has seen them miss out a spot in both competitions after strings of disappointing result conceding the highest number of goals throughout the entire campaign in the process.
Ron Mango, who won the double last season, are already out of the league cup after a 1-nil defeat to in-form Milan, while Senior Lions caused the biggest upset of the competition following their 2-nil mauling of Junior Arms.
Julangel continued in pursuit of their first competitive title in 10 years.
However, the Bakau Newtown outfit had their title hope dashed once again with penalty shootout elimination against mighty Vidar, meaning they would have to wait for another season to realize their title wining dream.
The latest knockout results have confirmed the qualification of Magadan, Bantankoto and Kansala to the second stage of the competition with the last game taking place at the time of going to press yesterday between Farokono and Kairaba.
The knockout second round begins on Wednesday 7 December 2011.
Read Other Articles In Article (Archive)