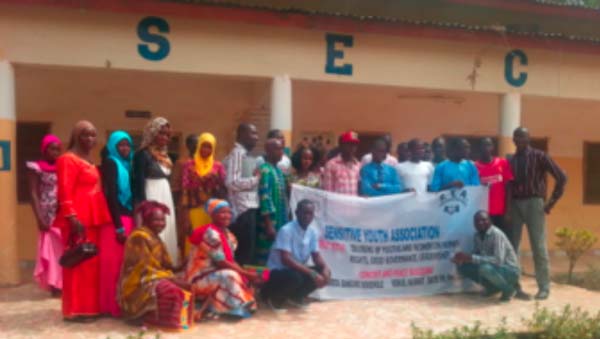 Sensitive Youths Association (SYA) Sunday trained women and youths on human rights, good governance, leadership concept and peace-building at a training session held at the Nusrat Senior Secondary School grounds funded by Conscience International.
Speaking at the training session, Modou Lamin Sanyang, chairperson of SYA, said the Sensitive Youth Association has been organizing a series of such programmes for youths and women for their future betterment.
They believe that youths and women need such an advocacy approach for their roles are important and crucial in the community; thus they need a positive change through capacity-building programmes, he said.
In terms of partnership for development, SYA has partnered with many important and recognized youth groups namely, Ebbegi Youth Development Association, PAYFORD, Baobab Youth Development Association, and most recently signed an MoU with Beakanyang Kafoo, he added.
According to Sanyang, they believed that this was a very necessary relationship as far as sharing of experiences is concerned, since no youth groups can independently exist without collaborating with other organizations.
Kebba Jeffang, Secretary General of SYA, said his association was opportune to receive a critical and educative training session from Conscience International on the thematic areas such as good governance, peace-building and sustainability, with several members of the association attending the training exercise as beneficiaries.According Jeffang, as a way of sharing the same information with people who were not in attendance, they deemed it necessary to write a proposal that would enable them to help in spreading the information to the members of the community.
The project is based on presentation of different subject matters that are affecting the daily lives of youths and women, he said.
It was very important for the women and youths to be well and rightfully informed about their roles in society, especially in decision-making positions as it was in line with the 1997 Constitution of The Gambia, especially women who are largely believed to be marginalized, Jeffang said.
It was important for the project to focus on other laws, specifically the Local Government Act, he said, adding that this would help the local people to understand and be informed about their rights and limitations, as far as local government administration is concerned.
Sulayman Jammeh, councillor of Bundung Mauritian ward, said it was important for youths to be trained to know their rights and responsibilities, as they are the backbone of the country.
He urged the youths to engage those they voted into office as their vote was their decision. 
Read Other Articles In Article (Archive)