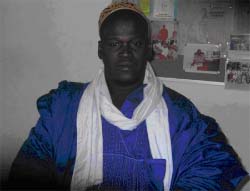 The National Traditional Medicine Programme under the Ministry of Health and Social Welfare has called on the general public to disassociate themselves from any business with purported traditional healer Ebrima Korka Sowe and his son Musa Sowe, of Sinchu Musa village in Sandu District, Upper River Region.
Speaking to The Point in a telephone interview on Monday, Abubacarr Sillah, programme manager of the National Traditional Medicine Programme at the Ministry of Health, said the two men claim to be traditional healers and marabouts; that they can treat and cure so many diseases and are collecting monies from people with the assurance that they could solve their ailments or problems.
The claim of having healing power by Ebrima Korka Sowe and his son Musa Sowe, according to Mr Sillah, "is found to be false and untrue".
The health ministry official said his office has received series of complaints and reports regarding the "dubious" activities that the two men are engaged in, by collecting monies from people and pretending to be able to cure or solve their diseases and spiritual problems. "Such things are criminal acts," he said.
Mr Sillah says the ministry is not taking the matter lightly and is therefore urging the general public to call through the following numbers if the two men are sighted anywhere in the country: 9957520/734428.
They can also be reported to any of the countrywide offices of the Regional Health Management Teams or the nearest police station, he added.
Read Other Articles In Article (Archive)