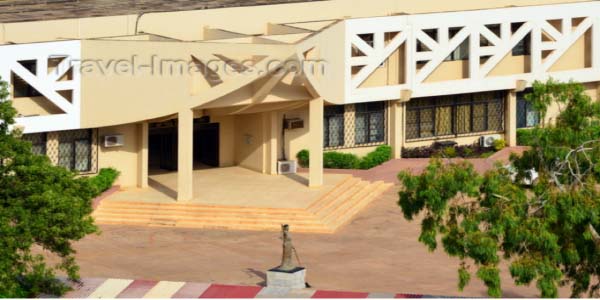 State Counsel Lamin Jarju of the Attorney General's Chambers on 18 May 2017 urged the High Court presided over by Justice Oleidi Uduma to dismiss the appeal filed by Alhagie Kakay and Dodou Jabang.

The appellants were convicted and sentenced to 10 years each by the Banjul Magistrates' Court, presided over by Abdoulie Fatty (Esq) on 4 January 2016 after they were found guilty on two counts of conspiracy to commit felony and possession of prohibited drugs.
In his submission, lawyer L. Jarju prayed the court to consider two issues for determination and they are: whether the prosecution had proven its case against the appellants and whether expunging the evidence of PW7 occasioned a miscarriage of Justice.
On issue one, State Counsel Lamin Jarju submitted that the prosecution witnesses at the trial court strongly established that the appellants were in possession of heroin substance.
He argued that it was rebuttable presumptions of which the appellants had not successfully rebutted based on their evidence, noting that the prosecution in criminal proceedings was required to prove the case against an accused by either direct or indirect evidence.
He further argued that the burden of proof was placed on the prosecution and might be discharged in the following ways: Confession, substantial evidence and evidence of eyewitness (es).
Lamin Jarju submitted that taking into account of the evidence of PW4 and PW5, coupled with exhibit D, E and F, it was clear that a case was made out against the appellants.
He referred the court to some cases and pointed out that under cross-examination of the prosecution witnesses, the evidence remained unchallenged and uncontroverted.
He argued that the evidence of PW4 and PW5 were among the arresting officers was sufficient enough to secure conviction as they saw the appellants throwing the substance out of the house.
He urged the court to attach a probative value to the evidence of PW4 and PW5, adding that the lower court had properly evaluated before convicting the appellants on both counts.
State Counsel Jarju submitted that the trial court was right when it concluded that the prosecution had proven the element of the offence.
He said it was trite that the duty of the Appellate Court was to ascertain whether or not there was evidence upon which the trial court acted upon.
On whether the expunging of the PW7 evidence occasioned a miscarriage of justice, state Counsel L. Jarju submitted that the trial court was right when it granted the application to expunge the evidence of PW7.
He argued that the trial court acted rightly when it expunged the evidence of PW7, adding that the expunging of PW7 evidence never occasioned a miscarriage of justice.
Sate Counsel Jarju urged the court to dismiss the appeal and affirm the conviction and sentence of the lower court.
The matter was adjourned until 5 June 2017, for the appellants to respond.
Read Other Articles In Article (Archive)