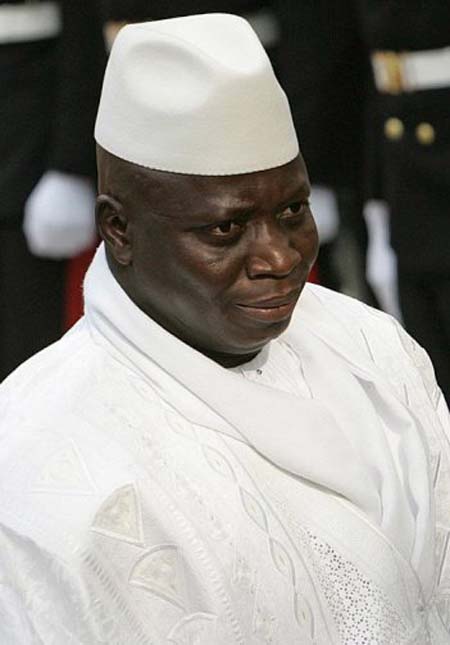 Gambia yesterday celebrated the 16th anniversary of the July 22nd Revolution with President Yahya Jammeh declaring an all out war on drugs and corruption in the country.
July 22nd, as the day has come to be called, was that fateful day in 1994 when some military officers led by the then Lieutenant Yahya A.J.J. Jammeh toppled the Progressive People's Party (PPP) government of Sir Dawda Kairaba Jawara in a bloodless military coup.
Under the theme "Definitive No to Drugs and Corruption," this 22nd July anniversary is seen by many as a moment of reflection on the achievements and shortcomings of the APRC government under the leadership of President Yahya Jammeh.
Addressing the turn out of thousands of Gambians and non Gambians at Arch 22 grounds in Banjul to witness the parade of security forces, march past of school children and procession of cultural and civic groups, President Jammeh declared that there will be no sacred cow, no uncle, nephew, brother or sister who will be spared if he or she decides to get involved in drugs or corruption.
"Let me repeat that there will be no compromise on drugs and corruption. There will be no sacred cow, there will be no uncle, nephew, brother or sister who will be spared if he or she decides to get involved in drugs or corruption. On this note, I hereby declare an all-out war on drugs and corruption," adding that Operation No Compromise is being intensified and expanded.
He also made it clear to senior officers of the country's armed and security forces that even if one is a field marshal," any day you touch even one gram of drugs, you are going to jail, and will be dealt with later." He warned of thinking that ?your rank is a license to carry drugs."
According to President Jammeh, "we have seen a colonel, a major and a former IGP going to court. Thank God that I have not seen a lieutenant or a captain or sergeant going to court at the moment. Are we setting a good example? No! If anybody expects me to be merciful on these people; there are people that can be forgiven, but not people that betray the public trust, and endanger lives and property," he declared.
President Jammeh added that "where the Inspector General of Police has a gang of armed robbers, who is safe? And to add insult to injury, he assured some people that nobody will touch them because he can always convince me that they have done nothing wrong.
I have always sent people to warn him that these activities will land him in jail, but he thought that he has marabouts. Let me make it very clear, that the marabout is as good as you behave well and is as bad as you are evil. If you are evil, no marabout can protect you because the marabouts are supposed to use the name of Allah for protection, and you can never use the name of Allah to protect evil," he said, adding that no one should waste his time and money if you are doing evil because, sooner or later, you end up in jail or worse than that.
President Jammeh also stated that, this year, he decided to address Gambians on the theme: "Definitive No to Drugs and Corruption" to indicate the extent to which his government is intolerant to drugs and corruption, which has no place in this country. He revealed that it is no secret that in the recent past, the scale of drugs in particular has increased alarmingly, as Gambians became flabbergasted by the discovery of huge quantities of hard drugs involving public officers, who betrayed the public trust and confidence.
"These are people we will never forgive for being unscrupulous elements in our midst, who try to use this country as a base and transit point for the most dangerous trade, trafficking of illicit drugs, and who we should, therefore, regard as true enemies not only of the state, but also of humanity at large.
Anybody selling drugs have no regard for human lives, because we all know the devastating effects of drugs," he further asserted.
President Jammeh reiterated that there is no way that his government and the decent people of this country will tolerate drugs, and compromise on its trafficking or use in any form in The Gambia.
"I will not go too far to convince you about the unending threats and dangers that drugs pose to social stability. We are only to reflect on those countries and regions of the world, where drugs have become the single most important source of massive and rampant corruption, lawlessness and upsurge in crime and heinous criminality," he added.
In the view of President Jammeh, if we allow drugs in this country, let us forget our religions, because it will become so violent that nobody will be safe in a mosque, church, market or streets.
"If that is what drug dealers want, they will never be safe in this country because I will do everything possible to eradicate them from the face of this country," he said, while calling on Gambians to unite and fight tooth and nail as well as maintain vigilance to prevent such a heinous killer menace from taking root in this our dear motherland The Gambia.
"It is my personal conviction that drugs are another worse form of slavery and colonialism because it has sustainable potency to destroy the youthful mind frame and mentality of society. This will never happen in this country. If drugs happen to take root in this country, forget about progress and development because there will be so much corruption and lawlessness that there wouldn't be a space in this country. This will never happen as long as I am the President," he declared.
All this, he added, is done for the benefit of a very few, greedy, inhumane and evil creatures. "They are not even human beings. Will we allow millions of people in this country to live in destitution because a few wicked souls want to be millionaires at the expense of the masses? We will never accept that, that is not even democratic and not even human rights. We cannot allow criminals to hold this nation's progress and the people of this country to ransom," he said, noting that this will never happen.
Commenting on his government's development strides, President Jammeh said the country's achievements, in just 16 years, have been so many when compared to the many years of slavery and colonial rule spanning 400 years. He said "it is simply unacceptable to allow drugs and corruption to carry us into a bottomless pit and retrogression, as well as destitution where violent crimes, lawlessness and blatant disregard for human rights are the order of the day."
"With a very impressive percentage increase in opportunities for Gambians, achieved under the revolution in virtually every sector of the economy, which has contributed immensely in improving the living conditions of Gambians, it is the duty and responsibility of all to ensure that these achievements flourish rather than degenerate, he added.
"The advances made in education epitomized by the successful creation of our own university; in health, the hospitals and health posts available everywhere across the length and breadth of the country; in agriculture, with the introduction of back-to-the-land call that has contributed to the general fall in food prices; in road networks, which almost links the entire country en-route to the city state vision; in electricity and energy, where we are not only enhancing accessibility but also affordability by revising tariff levels downward and with the introduction of satellite broadcasting for GRTS, among others, the sky is the limit for further advancement," President Jammeh concluded.
Read Other Articles In Article (Archive)