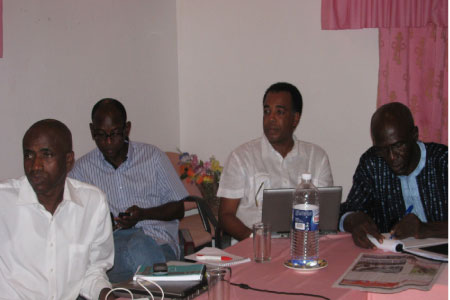 Various stakeholders converged at the Baobab Resort Hotel on a two-day forum to validate legal framework studies, best bet options studies and policy studies on Endemic Ruminant Livestock.
The forum, which attracted 30 participants from various government departments, was organised by PROGEBE Gambia and funded by Global Environment Facility.
The main objective of the studies was to review national and sub-regional policies relevant to conservation, promotion, trade and management including land tenure of endemic ruminant livestock and livestock products.
In his welcoming remarks on the occasion, the national coordinator of PROGEBE Gambia, Dr Famara B. Sanyang, said that since early last year that PROGEBE Gambia has been trying to validate work done by his staff in collaboration with other development partners on baseline studies, households  studies, livestock census, livestock data and other information which guide PROGEBE  in their operations.
According to him, after one year of operation in the field working with the farmers, PROGEBE Gambia realised there was need to carry out certain studies which would be a guideline in their operation.
"Therefore a consultant was identified in partnership with the national PROGEBE Gambia team to carry out studies on three major themes," he said.
PROGEBE Gambia is only a beneficiary of the studies which has been conducted, Dr Sanyang noted, saying that "hopefully the validation will yield dividends" through the recommendations of the participants.
The validation with the participation of the stakeholders will help them to develop an action plan based on the recommendations generated from the forum, he said. "This action plan will help to achieve the project objectives."
He added: "I hope that the recommendations will have an impact on the livestock sector or the people whose livelihood is dependent on the livestock sector."
In his official opening remarks on the occasion, Dr Abdelkaderr Bensada, Regional Coordinator of PROGEBE, described the component as very important to the project in the sense that it is related to the policies and legal frameworks, which are relevant in the guidelines.
"The project has registered a lot of achievements at the national level; yet PROGEBE Gambia deems it not enough without putting legal framework in place to support all their efforts in achieving the project objectives," he said.
Read Other Articles In Article (Archive)