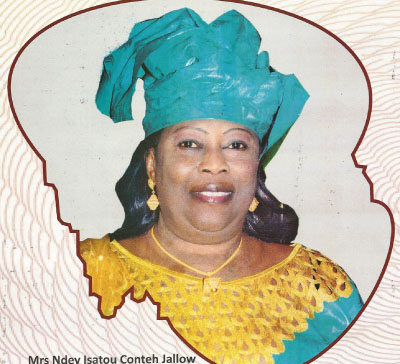 Hello and a warm welcome to yet another interesting edition of Personality of the Week, your weekly column aimed at bringing prominent Gambian top achievers into the limelight.
This column has and will continue to bring you profiles of the giants in today's Gambia.
In today's edition, we bring you the profile of a woman who needs no introduction in today's Gambia. She is a successful woman, an erudite business woman who is today one of the most respected woman in Gambian society.
She is Mrs. Ndey Isatou Conteh-Jallow, daughter to Mrs. Aja Fatou Sanneh Conteh and the late Mr. Alhagie Kebba Conteh.
Born some sixty-years ago at 13 primet street, Ndey Isatou Conteh-Jallow, president of the ECOWAS Federation of Business Women Entrepreneurs Gambia-Chapter deserves a public attention and should thus be portrayed in this light as an extra ordinary personality of the 21st century.
A household name in the Gambia, Ndey Isatou Conteh-Jallow contributes in almost all the diverse spheres of human endeavour.
This great woman worthy of being recorded by the present and future histories of the Gambia and Africa in general, should be emulated by all and well meaning people of the Gambia.
Her journey to greatness, characterised by the rare virtues of honesty, hard work and discipline, is noteworthy. As a role model for all, especially Gambian and African women, Ndey Isatou Conteh-Jallow's style of life gives surge and confidence and spurs growth and greatness in the lives of the willing.
Through her landmarks, she has made vivid the fact that the government is indeed in the right track towards women empowerment in this country.
Seen as a delight to behold, Conteh-Jallow started her educational career at Muhammadan Lower Basic School in Banjul and then proceeded to Gambia High School.
From Gambia High School, Ndey Isatou Conteh-Jallow proceeded to the then Government Clerical School now Gambia Technical Training Institute (GTTI) from 1970 to 1971 where she studied accounting, typing among others.
From 1971 to 1986, she worked at Income Tax Office in Banjul, where she rose to the rank of Inspector of Taxes.
In 1986, Ndey Isatou Conteh-Jallow retired from the civil service on marital grounds and went on to open her own business centre called N and J's enterprise in Serrekunda, selling building materials, kids wear, and textiles.
She was among the founding members of the Taku Legaye Bu Ndey Conteh skills training center in Bundung. Founded in 2002, the skills center provides capacity building through skills development for Gambian youths.
In 2009, Ndey Isatou Conteh-Jallow was elected president/focal person for the ECOWAS Federation of Business Women and Entrepreneurs Gambia-Chapter. This is an umbrella organization of various women groups with a membership that cut across the entire West African sub-region.
It was established following the adoption of the ECOWAS General Assembly at a meeting held in Accra, Ghana on 25th July 2009 under the auspices of ECOWAS Commission, which mandated each member of the ECOWAS sub-region to have a Regional Federation.
Also in 2010, she became the President and founder member of the Association for Gambian Women Empowerment (AGWE).
As president of the ECOWAS Federation of Business Women and Entrepreneurs Gambia-Chapter, Ndey Isatou Conteh-Jallow's main objective is to promote entrepreneurship among women, upgrade the skills and capacity of business women and entrepreneurs, promote favorable business environment for business women within the sub-region and The Gambia in particular.
Because of her deep experience in business entrepreneurship, Mrs. Conteh-Jallow put in place at ECOWAS-FEBWE a mechanism for the mobilization of funds through income generating activities, membership dues and fundraising.
She also established a guarantee fund for women initiatives to facilitate women's access to formal long term loans in collaboration with ECOWAS.
Mrs Ndey Isatou Conteh-Jallow is also a member of ELWA, a Spanish organization engaged in assisting African organizations through trainings or helping them in acquiring funds.
She also once served as a member of the Interim Management Committee of the Kanifing Municipal Council.
Currently, she is the treasurer of the Gambia National Women Federation.
She was in 2009 conferred with a national honor (RGM) by President Yahya Jammeh for her dedication to national development.
Read Other Articles In Article (Archive)