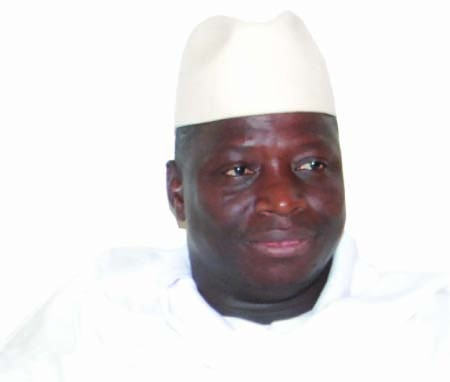 Information reaching Point Entertainment has revealed that Gambian leader His Excellency Sheikh Professor Alh. Dr Yahya Jammeh and other world leaders will be honoured during the Nollywood and African Film Critics Award, which will take place at Carolina Theater, Durham North Carolina, USA.
Uche Jombo's trilogy film, 'Damage" is on the threshold of making history again going by the nominations for the best film in this year's edition of the prestigious Nollywood and African Film Critics Awards(NAFCA), scheduled to hold on Sunday, September 16, at Carolina Theater, Durham North Carolina, USA.
President Jammeh and others have been nominated  for the special NAFCA life-time achievement awards.
The list of nominees released by the event organizers shows that Damage, which has four nominations out of the nine categories, will be jostling for the prize alongside such films as The Professor Anchor Baby; Treacherous Heart and Unge's War.
The film is also nominated for Best Docu-Drama, Best Drama and Best Screenplay.
This was followed by Unge's War. T produced by US-based Nigerian filmmaker, GuGu E. Michaels, which has three nominations; Best Traditional film, Best film, and Best Visual effects.
Lancelot Imasuen's epic film, Adesuwa and Lilian Bach's Eletan respectively had two nominations each; Best Traditional film and Best Visual effects.
Also, Kajola is being nominated for the Best Trailer or short film just as champion of our Time is to jostle for the prize of Best Docu-Drama with films such as As I die, Slowly Wamba, Eyes on Hope and Damage.
Nominees for the Best Original Score award are Katumbela (Lost in Abroad), Joyce Ngimah (Immoral Affairs) and The Professor (Stolen Nigerian National Anthem, and I Love Africa).
Meanwhile, the organisers named Governor Babatunde Raji Fashola of Lagos State and President Yahya A.J.J. Jammeh of The Gambia as among the dignitaries that will be honoured during the event.
Achievements in the Theatre awards among others
Commenting on the nominations, the founder and the CEO of NAFCA, Dr Victor O. Olatoye, said: "We received over 200 films from African filmmakers worldwide and we are very proud of our filmmakers for the significant improvements we continue to see as we review the films.
"NAFCA 2012 is going to be our biggest award to date and we are partnering with the North Carolina Museum of Art here in the United States and over 50 members of the press (prints and online) to help spread the good news.
"This year, we have new and improved categories we feel are needed based on our research within the industry, such as Lifetime Achievement in Cinema and Theater."
Olatoye also added: "This year's entries in 40 major categories are judged against a stringent set of registered movie star ratings standards.
"I want to personally thank all the filmmakers for their trust and support.
"I also want to congratulate all the nominees for their hard work, it was not an easy process, but we appreciate the opportunity given to us."
Read Other Articles In Article (Archive)