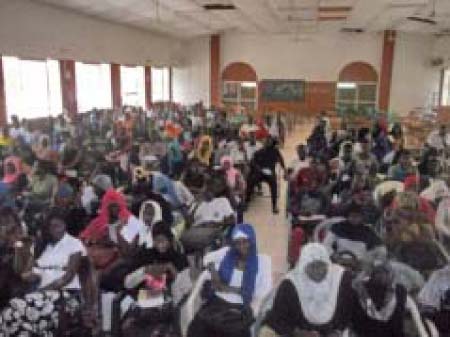 The West African Examination Council (WAEC) on Saturday oriented 100s of private candidates who are preparing to sit to the 2015 West African Senior School Certificate Examinations (WASSCE).
The orientation meeting was held at Nusrat school campus in Bundung and various other examination centres.
The meeting was to prepare the students by making them to understand the council's rules and regulations governing the examinations.
Candidates were warned to get themselves au fait with the examinations dos and don'ts to avoid being penalised, if they fall foul.
Speaking at the orientation held at Nusrat, the principal of the school, Karamu S. Bojang, encouraged the students to abide by the rules.
He said Nusrat has been a centre for private WASSCE and that "automatically means" the head of the school is taking responsibility to ensure that the examinations rules and regulations are followed as laid down by WAEC.
Mr Bojang said the Ministry of Basic of Secondary Education is very much concerned about strict adherence to the rules and regulations as the permanent secretary has challenged that any school that registers zero examination malpractice will be given a surprise package.
However, Mr Bojang noted that "it is difficult to eradicate" the examination malpractice but school authorities are doing "everything possible" to minimise it drastically.
"The society should understand that examination malpractice is the same as cheating, stealing and other types of dishonesties, which are very bad attitudes," he said.
WASSCE private examination is usually taken by those who could not get the grades they want in certain subjects during their first sitting at senior school.
English language and mathematics are the most common subjects that people re-sit in the private examination.
Read Other Articles In Article (Archive)