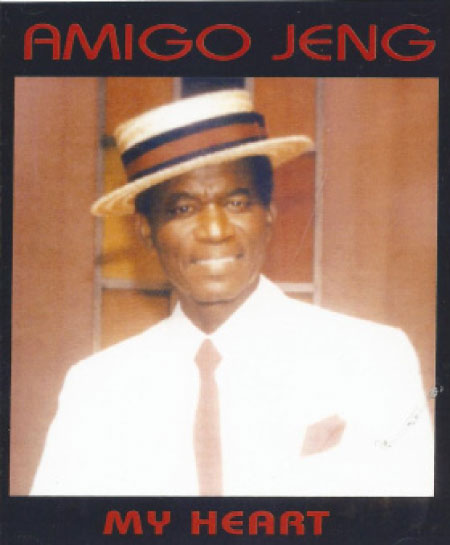 Hello and a warm welcome to another edition of Personality of the Week, your weekly column which profiles Gambians and non-Gambians alike whose contribution to the development of The Gambia should be celebrated.
In today's edition we bring you the profile of Mr. Muhamadou Amigo Jeng, Jack of all trade, master of most; Jeng the creative mind.
Born in 1938 at Ker-Majebel village in Senegal to the late Abdoulie Jeng and late Mariam Ceesay, Jeng, a musician started his elementary schooling at Muhamadan Primary School in Banjul from where he sat to the entrance examinations to Saint Augustine Secondary School in Banjul.
At Saint Augustine Secondary School, Jeng's quest for higher education could not materialise as his parents could not afford to pay his school fees accordingly, a move that forced him to stop at form four.
"With my secondary four certificates, I was able to work as a forestry guard for one year both in Yundum, Kuntaur and Niani Sukuta," Jeng told Personality of the Week columnist.
After serving the forestry department for one year, he decided to resign to go and learn electrical engineering in Senegal from 1955 to 1968.
From Senegal, Jeng travelled to London, UK where he worked under a Gambian as an electrician until he was offered a job by the British Labour Department.
"My experience as an electrician in Senegal was very viable for me in London because even before giving me a job, the British Labour Department gave me a practical test, which I passed with flying colours," Jeng stated.
According to him, during his ten years in UK, he worked as an electrician and also attended night school in Padentin Technical College in the UK, where he scored distinction in all subjects.
"When I was about to complete my course in the UK, the then PPP government under Sir Dawda Jawara paid me a very healthy allowance. By then, the PPP Government under Sir Dawara Jawara budgeted for all Gambian students who were on overseas training," he said.
"The then PPP regime even offered me a job before my return to The Gambia and paid for my air ticket and pocket money," Jeng added.
After coming back to The Gambia, Jeng was given a post at the then electricity department as second superintendent, where he served for two years before resigning to form his own company called Jeng Electrical Company.
Jeng Electrical Company
After setting up Jeng Electrical Company, Jeng was engaged in ordering materials, reading drawings, implement what is on those drawings and fix them practically.
With a workforce of 20 Gambians he employed at Jeng Electrical Company, Jeng engaged in so many projects all geared towards contributing his quota to national development.
His last electrification was at the current Serekunda Hospital in Kanifing four years ago during which he suffered from an accident.
"Because of Mrs. Fatou Mass Jobe's quick intervention to solve my financial needs in order to complete my electrification process at Serekunda Hospital, I discharged myself from the hospital without waiting for the doctors to discharge me," Jeng stated.
Among key institutions that his company electrified were the Central Bank of The Gambia, Radio Gambia, Sunswing Hotel, and the Gambia College Phase I.
His Jazz connection
It is stated in Jazz history books that Jazz comes from Africa, and the word "Jazz" comes from an African language. What is Jazz? This question has been a challenge for Amigo Jeng to find out and explain to the whole wide-world (which no one has never done before).
Slaves from Senegambia in the 17th Century via James Island in The Gambia were taken to Louisiana in America. According to Amigo, when the slaves used to enjoy themselves, like playing music, singing, clapping and dancing happily, their masters asked them what they were doing; A small wollof among them said "jahass" meaning the combination of doing many things together.
"The person who first wrote this word spelt it and pronounced it wrongly (jass). This word is found in American dictionary books meaning jazz. After my endless research, I came up with the jazz equation: Jahass-jass-jazz," Jeng stated.
While in the UK, Jeng used to play his guitar, which is his main instrument at the African Centre in London, a place that normally attracts lot of Europeans and Africans living in London.
"I believed in music especially Jazz; it is part of my life and it will continue to be part of my life," he said, while announcing that come this year's Tobaski feast, he will perform at along the Senegambia highway to showcase our culture.
Chairman NAWEC Board of Directors
Jeng also served as the Chairman of the Board of Directors of the National Water and Electricity Company (NAWEC) for ten good years.
During his tenure as Chairman, Jeng faced numerous challenges in his quest to make the national power supplier one of the best in the world.
Read Other Articles In Article (Archive)