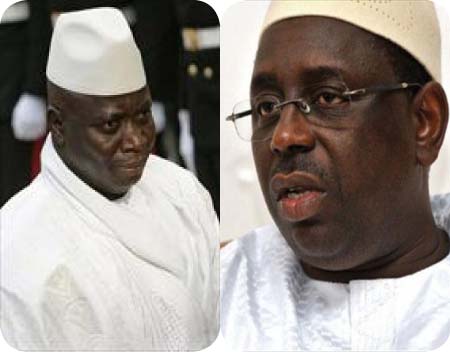 Gambian opposition leader Ousainou Darboe has said President Yahya Jammeh and President Macky Sall should sit down as matured and responsible leaders, and discuss the border closure issue, so we put it behind us forever.
He said it creates unnecessary suspicion, tension; and speculations within the two countries, "and we are too close for that".
Speaking in an exclusive interview with The Point on Monday evening, the Gambian opposition leader said "it is rather unfortunate that these two countries can act towards each other in a way that looks hostile".
Afterall, he added, both the Gambia and Senegal "live on each other. The Gambia can hardly do a thing without Senegal and so is Senegal".
Darboe believes that both The Gambia and Senegal should adhere to the ECOWAS protocols on free movement of persons and goods, "and, of course, you cannot have free movement of goods if the borders are closed".
He added that it does not make sense for The Gambia to take "a retaliatory measure" by closing the borders.
If Senegalese transport unionists close the border, he said, "The Gambia should behave in a better way to indicate that we in The Gambia do not believe in taking measures that will bring untold suffering to our citizens, and to other old persons who are resident, either within Senegal or The Gambia, and yet want to move freely from one country to another".
He pointed out that there are mechanisms in place, through the Senegal-Gambia permanent secretariat, for example, where this sort of issues can be dealt with.
Darboe, in the interview, asked what informed the decision of the Gambia government to close the borders.
"I would have thought that some reasons would have been given to the general public, why this was done. Though we know some of the reasons, whether tenable or not, given by the Senegalese; that is, the demand by the ports authority for payment of ferry crossing fees in FCFA.
"Whether it is a tenable reason or not - that's another matter - but at least some reason had been given. And I think we should also be told why the border was closed".
As regards the reported re-opening of the frontier, Darboe said he is not aware of any delegation coming from Senegal, whether ministerial or governmental delegation or of any unions, coming from Senegal to have discussions with the government in Banjul on the border closure; which discussion would have influenced the decision of the Gambia government to re-open the border.
He, therefore, asked: "Is this one of those moments when President Jammeh says: 'look I have to show my power; I'll close the border; and, then the next minute says, well again, I'll show my magnanimity, and re-open the border?"
"The long and short of it all", added Ousainou Darboe, is that "both President Jammeh and President Macky Sall should really sit down as matured and responsible leaders, and discuss this issue and let's put it behind our back forever.
"It creates unnecessary suspicion; unnecessary tension; and, unnecessary speculations within the two countries. And we are too close for that.
"After-all, we are not even cousins; we are brothers and sister!
"So we should really be showing examples to other countries in the sub region; that we are a perfect example of sub regional cooperation", the leader of the opposition United Democratic Party pointed out in our interview.
Read Other Articles In Article (Archive)