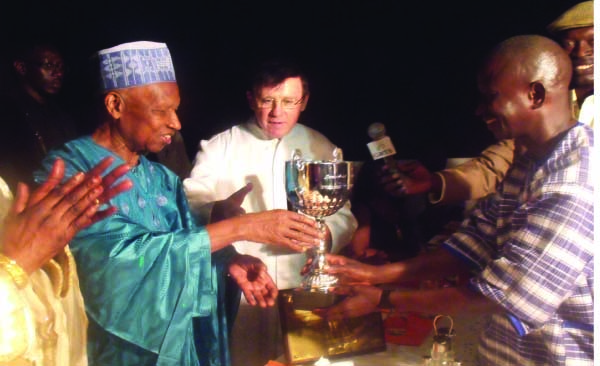 Former President of the Republic of The Gambia, Alhaji Sir Dawda Kairaba Jawara, and nine other high profile personalities, have all received awards given by the Father Joseph Gough Sports Foundation.
The awards are in recognition of their contribution towards the development of education, youth, sports and the foundation itself.
The annual award dinner's aim is to promote the valuable contribution and the great impact Father Gough has made in the promotion and development of both education and sports in the country.
It was held at the Wave Crest Hotel in Kotu on Wednesday night, and Father Gough was among those in attendance.
"The foundation which was established three years ago is proud to honour one of the greatest ever Gambian leaders for his tireless and endless services to the Gambian people, and for what he has also done to make today's gathering a possibility," said Bye Malleh Wadda, the coordinator of the foundation.
This life-time achievement registered by Jawara, the first head of state of The Gambia, according to foundation officials, is in recognition of the great contribution, fulfillment and uncompromising commitment on the principles of human rights and, above all, for Jawara's strong commitment to education in the country.
The former Gambian leader, who ruled the country for 30 years, in his reaction to the award was appreciative of Father Gough's prestigious accolade.
The 86-year-old went further to heap praises on Father Gough for his endless services to both sports and education, before he in turn presented his award to Saint Augustine's Senior Secondary School, which was received by Paul Gomez, the vice-principal of the school, on behalf of the school.
Next in the queue to receive an award from the Father Gough foundation was the former Speaker of the National Assembly Elizabeth Y. Renner, who was presented a giant trophy in recognition of her valuable role towards women's empowerment in The Gambia.
Renner's award was followed by another award, that went to the Gambia's most celebrated footballer of all time, Alhaji Modou Njie commonly called Biri, who was also in attendance to receive a giant trophy.
Saihou Sarr, former Wallidan influential player, Ousman Sabally, an ex-basketball star, Mamburry Njie, minister of economic planning and industrial development, Habib Jeng, Alagie Ceesay, and Bye Malleh Wadda all received awards in recognition of their fantastic contribution to the development and promotion of both sports and education in The Gambia.
The last personality to be awarded was Father Joseph Gough himself, who was once again honoured for his spectacular services to the Gambian people.
He was presented a photo album, which contains photos of his activities and of his previous contributions in the areas of sports and education, and in many other fields, over the years.
Read Other Articles In Article (Archive)