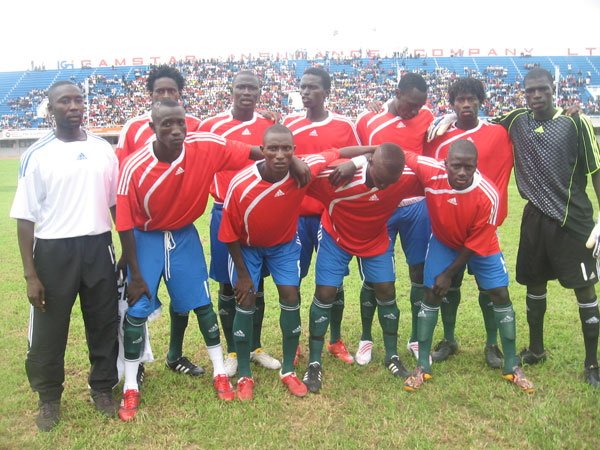 The misunderstanding between Gambian sports journalists and security personnel during international matches at the Independence Stadium is now a thing of the past, if the meeting between the Orgainsing Committee of the Gambia Football Association and Sports journalists is anything to go by.
Sunday's meeting was held at the GFA's Football House, attended by media representatives and the new executive members of the Sports Journalists Association of the Gambia (SJAG) with the GFA's Orgainising Committee headed by GFA 2nd Vice President Lamin King Colley.
The meeting agreed to meet the demands of the sports journalists, following a boycott of journalists and a protest letter written by SJAG.
Gambian sports journalists agreed to boycott reporting of the match between the Gambia U-20 versus Cote d'Ivoire on Saturday September 25th as an expression of  their dissatisfaction.
This was in connection with several cases of mal-treatment of journalists by the security personnel during international matches, including denying them access to conduct interviews with coaches and players after matches.
The meeting was described by many as very fruitful, and to have created a conducive environment for the stakeholders to dialogue and reached a common understanding.
Consequently, both parties were well orientated on their roles and responsibilities.
The Organizing Committee of the GFA agreed to respect the accredited Journalists' right to have access to the Press Stands freely; for Journalists to have access to the Press Conference Center and Mixed Zone, at least five minutes before the game ends; to organize pre and post match press conferences during International games, as well as to provide Press kits at least an hour before kick off.
The journalists were also asked to desist from conducting interviews at the pitch immediately after the game, but instead they should do it at the media room, which will be made fully operational by the GFA Organising Committee in future matches.
The security personnel, it was discussed, are there to safeguard the interest of everyone at the stadium, and are always acting on instructions based on the programmes given to them by the Gambia Football Association.
Another fruitful agreement reached was the need to provide the match line up of teams to journalists in time to avoid the unnecessary queuing of journalists to get it.
Both parties agreed to honour the issues discussed at the meeting, in the interest of national development.
Read Other Articles In Article (Archive)