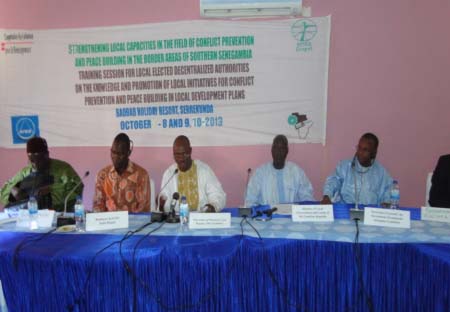 The Minister of Lands and Regional Governments, Momodou S. Colley, on Tuesday presided over the opening of a three-day training for local authorities on the knowledge and promotion of local initiatives for conflict prevention and peace building in the sub-region.
The training brought together about thirty elected local and decentralised authorities from the cross-border regions of Kolda, Sedhiou and Ziguinchor in Senegal, Cacheu, OIO and Bafata in Guinea Bissau as well as those from Western Coast, Lower River and Upper River Regions of The Gambia.
It includes eight Gambians, 14 Senegalese (seven per cross-border area) and eight from Guinea Bissau.
The main objectives of the workshop are to consolidate the knowledge of local elected and decentralized authorities on the legal and institutional framework governing peace and security, on the one hand, and to appreciate the relevance of local initiatives in the matter, on the other.
Participants at the three-day forum are to focus on strengthening local capacities in the field of conflict prevention and peace building in the border areas of southern Senegambia.
The project is initiated by Enda Prospective Dialogues Politiques, Diapol with financial support from the Australian Development Agency and local technical support from the NGO Afrique Enjeux.
At the end of the forum, local authorities will be able to better understand how important it is to integrate various types of conflict resolution on cross-border crimes, the access and use of forest resources into their strategies and local development plans.
In his official opening statement, Minister Colley said these types of occasion are a great opportunity for him as the minister of Lands and Regional Governments to also interact with local authorities.
He thanked the Enda Diapol and its collaboration partners for organizing the very important sub-regional meeting in Banjul.
He further asserted that the meeting would go a long way in solving many issues within the sub-region through dialogue, exchanging ideas, and making recommendations and strategies of the best way to be adopted in the interest of the sub-region.
He said therefore that the Ministry of Lands and Regional Governments in fulfillment of its role on border and cross-border issues will enhance the capacity of local councils to enable them to participate meaningfully in cross-border peace-building.
He therefore urged all to take ownership of the training, take up the challenges, roles and responsibility to participate in the initiative, which is a step in the right direction.
He also lamented the importance attached to the cross-border issues, and for its high agenda of the President of The Gambia, in advocating for peace building in the sub-region.
Other speakers on the occasion included the Governor of West Coast Region, Alhagie Lamin Sanneh, and the permanent secretary of the Senegalo-Gambia, Dodou Jobe, who all advised the participants to work very closely throughout the forum and to come up with recommendations that are fit for "our sister countries". 
Read Other Articles In Article (Archive)