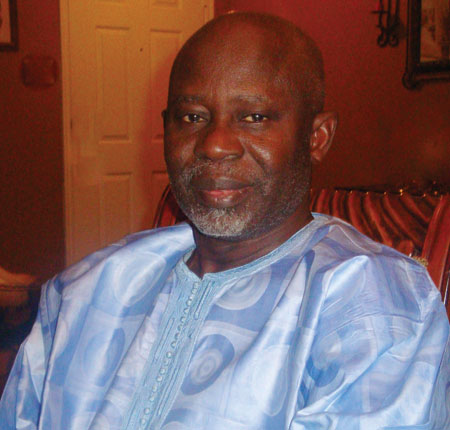 The opposition United Democratic Party (UDP) have finally come public to react to a series of allegations by the government, and the arrest of one of its executive members, over allegations that it was engaged in providing false attestations for would-be asylum seekers using the party.
Addressing a press conference attended by over a hundred UDP supporters at his residence in Kairaba Avenue on Tuesday afternoon, Ousainou Darboe Secretary General and party leader of the UDP, refuted the allegations, noting that the UDP has been unjustifiably painted as a tribal party.
The Gambia government on Friday issued a statement in which, among others, it accused former colonial master Britain and Washington of backing "so-called Gambians to set up organisations and media facilities to spread nothing but lies against The Gambia by making false, outrageous and unfounded statements about the state of human rights."
''These people and institutions specialize in lying and providing false attestations for would-be asylum seekers using the main opposition party (UDP) as a platform for such nefarious activities, thereby casting a very bad and negative image of both the Government and noble people of The Gambia,'' the government said.
Responding to the government's allegations, Darboe said the image of any government is built by the government itself, and how citizens are treated is how the image of any government is projected.
The UDP leader recalled that three people and a host of others, including an imam, were arrested just for belonging to the UDP party and subjected to the most gruesome treatment, something he described as the most disgraceful thing that the APRC government has done in this country.
''If anybody has to write an attestation to tarnish the image of this country, has the government itself not tarnished its own image by the way it treated Imam Karamo Touray and others,'' he stated.
He also recalled that one Kanyiba Kanyi, a UDP militant, was arrested by the APRC regime on the 18th September 2006 for just mounting a campaign against the regime that it does not deserve the mandate of the Gambian people.
Kanyi, the UDP leader said, "has never been released and has disappeared from the surface of this earth despite confirmation by then Interior Minister Baboucarr Jatta that he gave instructions for Kanyi's arrest".
''Does anybody need to say anything about this government by way of tarnishing its image? The Government itself tarnished its own image,'' he added.
According to him, the UDP is not only concerned about what the APRC regime has done to its supporters, but others as well, including Duta Kamaso and Ramzia Diab, former parliamentarians.
''This government has itself been its own enemy; it has itself been engaged in systematic tarnishing of its own image, and thinking that by so doing they will instill fear in the population so that no one dare challenge them,'' he stated.
Noting that arrests and so forth are part of the life of a politician, Darboe said the only thing that they will shy away from; that they will be embarrassed about, is to have committed crimes, particularly crimes involving fraud.
''But other than that, we will never feel embarrassed for being arrested and, in any case, what has happened to Amadou Sanneh, as seen on the television, is not the way any responsible government should treat its citizens,'' he told journalists.
''When shown on TV, there was a point when Amadou was even collapsing, and one could see the condition he was in, which can lead one to speculate that - was he not tortured or have some other thing being done to him?'' he said.
The government, he went on, has exposed its own colours; that it is a government that has no regard for the rule of law, and this is what has made people afraid of living in this country.
''Did Amadou Sanneh write any false statement? Information we have is that what he wrote on paper was what he was told by Alagie Sambou Fatty; that the chap was so terrorized by a security officer in his village of Bantanto, someone who they claim is a citizen of Bansang and yet a member of the youth wing of the APRC party; that it was out of fear of harassment of this chap that he made this statement to Amadou, and Amadou believed it,'' he stated.
This, the UDP leader went further, is what Amadou Sanneh was told and that was what he wrote, but the fact that he said the life of the chap was threatened and so forth is not an issue that in their view would be tarnishing the image of our country, because they have lost one of their supporters, and they also had information from government itself of people who they claim to have disappeared.
Read Other Articles In Article (Archive)