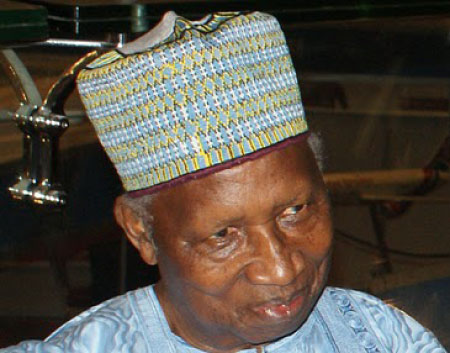 Former President Sir Dawda Kairaba Jawara has expressed his impressions about the steps being taken in the country towards the prevention of deforestation.
Sir Dawda was speaking yesterday during a visit to GreenTech Environmental Solution in Kololi, a private business engaged in the production of Biofuel Briquettes with fuel-efficient stoves in the country.
He told journalists that such a step is beginning to answer, to some extent, what they aimed at when they banned the use of charcoal in the 1970s and as part of an effort to minimize the use of our woodlands and forests.
GreenTech is a private business response to the actual poverty situation, the up-winding energy crises and the environmental challenges in The Gambia.
The company supplies affordable high quality solid biomass fuel for cooking and heating to a high diversity of industries and households, whilst supporting international and national strategies and targets for sustainable environmental and social development.
It focuses on pro-poor and environmentally-friendly products, production and marketing strategies with high potential of extension and diversification.
"I must say that I'm very much impressed with what I have seen, and the effort being put in and, of course, the final effects of this GreenTech process," Jawara, who was accompanied by Lady Chilel Jawara and some of his grandchildren, said.
According to him, the project will help to some extent in saving the country's woodland and forests, and make fuel for cooking and other domestic use much easier and more effective.
"This is actually beginning to answer, to some extent, what we aimed at when we banned the use of charcoal in the 1970s, and be part of an effort to minimize the use of our wood lands and our forests," he said.
Here now, he added, is an industry that is producing bricks that compress the waste from groundnuts, which can replace the use of firewood and charcoal.
"So the value of this in our environmental efforts is extremely good. I can only wish GreenTech Company every success, and urge them to keep the project on," Jawara stated.
Noting that new things are very difficult to maintain, former President Jawara said GreenTech have made a very good start, and advised them to keep it up.
He also called on the general public to know that here is a project which is not only easy to use, but also even cheaper than charcoal and even using firewood directly.
"So I would advise the general public to look at this new product, which is being produced by GreenTech, and to see how they can benefit from it and, at the same time, help save our wood lands and forests," he further said.
Read Other Articles In Article (Archive)