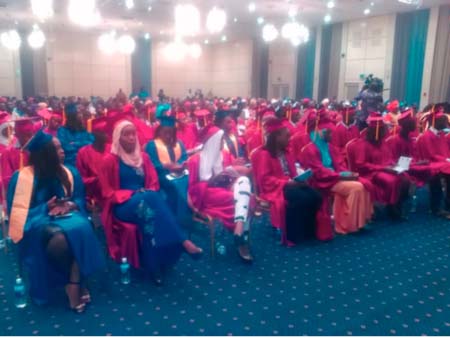 (Monday October 10, 2016 Issue)

American International University, West Africa (AIUWA) on 7 October 2016 held its second Graduation Ceremony, at the Kairaba Beach Hotel.

The graduating class of 2016 consisted of 54 nurses with specialization in various disciplines such as Anesthesia, Midwifery, and Psychiatry.
In his keynote address on the occasion, the minister of Health and Social Welfare highlighted AIUWA's contribution to The Gambia in educating and training Gambian nurses on full scholarship provided by the AIUWA.
He thanked AIUWA for providing full scholarships to Gambians.
He said the AIUWA, with such noble assistance in offering scholarships as its offers sound education to students, the institution would go from strength to strength.
He said scholarship is one of the major challenges as the Health sector strives to build the capacity of nurses as well as qualified and trained personnel.
Hon. Sey also thanked President Yahya Jammeh for his leadership, saying: "To keep up with the population growth, with combating diseases like Ebola and Zika viruses, the challenges are enormous. However, The Gambia has been blessed by the leadership of President Jammeh for providing healthcare to all citizens in all parts of the country."
Concluding the health minister advised graduates to put their skills and knowledge to work; be truthful, compassionate and humble; continue their pursuit of knowledge, be leaders in their field as well as work hard.
AIUWA president Dinesh Shukla, president thanked the Gambia government for providing an environment conducive to set up the AI University in The Gambia.
He especially thanked the Ministry of Higher Education, Research, Science and Technology for "their unflinching and invaluable support".
AIUWA signed an agreement in 2010 and started enrollment in 2011, he said, adding that AIUWA consists of 6 colleges at 3 campuses.
With a current enrolment of more than 700 students from 16 countries, the AIUWA is set to complete in a few months its permanent campus being built at Kanifing Institutional Area.
The AIUWA president remarked that their mission is to bring world class education to citizens of the African continent.
"We want to set up The Gambia as the home of education," he said.
According to Dr Shukla all their achievements would not have been possible without the guidance, support and wisdom of President Jammeh.
Speakers on the occasion included Nursing Council Registrar Alasana Darboe, AIUWA director Shukla and Momodou Musa Barrow.
Amarachi Madueke delivered the valedictorian speech.
The event was well attended by many heads of institutions and other dignitaries from the government, the public, private and civil society sectors.
Read Other Articles In Article (Archive)