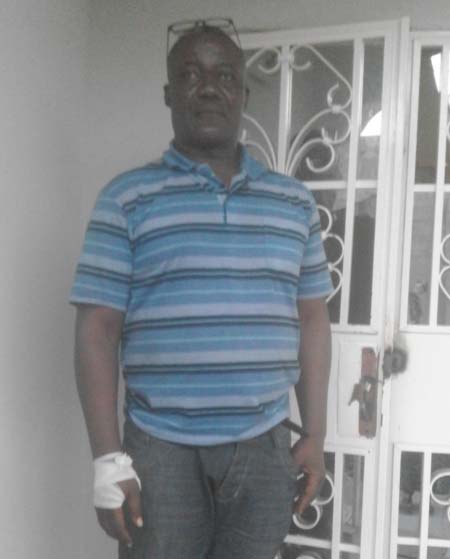 Juana Bockarie, a Sierra Leonean residing in Abuko, has reported that he was attacked by "armed robbers" in his house on a Friday, early hours of the morning.
Reporting the incident at the Abuko police station, Mr Bockarie said he was in his house around 3a.m. when he had a noise in the compound and he then woke up to see what was happening.
He said he looked over the window and saw some guys in the compound while the compound gate was closed; they apparently jumped over the fence.
The alleged robbers then came to his house, knocked the door and asked him to open the door or else they would kill him.
He said the guys were armed with cutlasses, knives and broken bottle and their face covered.
They tried to open the main door by force but to no avail so they tried from the back door which they eventually opened and entered the house.
Bockarie explained that during the ensuing push and pull, they stabbed him with a knife and broken bottle.
The man said it was when he shouted for help and his neighbours were coming to his rescue that the attackers left before anyone could arrive.
Bockerie said he later reported the matter to the Abuko police station.
Kujeju Sillah, the wife of the landlord where Bockarie is living, said Bockarie's incident was not the first time for such to happen in the compound.
She said she herself had been attacked at some point but could not also identify the attackers because they covered their faces. 
In her case, she said, many things including her TV channel, DVC, motor batteries, mobile phones, and some cash were taken.
Similar thing also happened to Ndey Marr-Jallow who is living not far from Bockarie's compound.
In the case of Bockarie, one suspect, Dawda Sanneh, a native of Bwiam village, has already been arrested by the police at Abuko station.
The suspect said the attacks on Bockarie and Ndey Marr-Jallow were done at the same day the same time. 
He said they had stolen from the two compounds on many occasions and had also done the same thing to other compounds within the area.
Dawda said they are a group but they usually divide themselves when they are going for night operation.
He said they had a guy who would point out to them the compound to attack and they would attack.
Meanwhile, three other suspects had also been arrested.
Read Other Articles In Article (Archive)