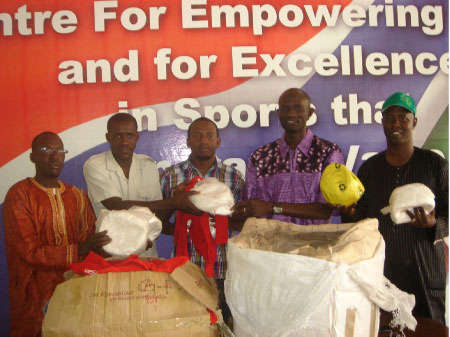 A group of Gambians based in Spain over the weekend presented 30 balls and a pallet of sportswear to the Ministry of Sports.
Called the Association of Immigrants in Malgrat- de mar, the group is noted for their patriotic support to development programmes in their native Gambia.
The items were received at the National Sports Council (NSC) office at the Independence Stadium on Friday where sports minister Alieu Jammeh thanked the donors for thinking about their country in their activities.
The minister said the items are well appreciated, especially because the decision to give them to the country is pegged on good intention by the donors.
"In national development no contribution is small. What is paramount is the desire and intention to bring better changes to one's nation,'' he told representatives of the association.
The minister further informed the group that their intervention came at a time government has taken giant steps towards changing the scope and direction of the management of sport, especially football, with a view to making it available to all talented players in all parts of the region.
He said the coming regional football associations would open up chances for all talented players in the country to have a chance to prove their talents and be scouted from regional to national level thereby providing "a large pool of talents for our national teams".
The minister said, like every human activity, changes do not come without resistance and misunderstanding, hence "the frequent quarrels you read or hear in the media within the sports fraternity".
"But all that is part of the process leading to better organization of football,'' he added.
Representing the group, Tumani Danjo, head of the coordinating team in The Gambia, said the association has a strong policy to support projects in The Gambia.
Their activities and support included the provision of Land Rover ambulance, 86 mattresses, 22 beds and 2000 litres of liquid detergent soaps for Yoro Bawol Health Centre in the URR.
Mr Danjo said the association's members equally have interest in football and other youth and sports affairs and would work towards seeking avenues of cooperation between Gambia and Spanish football clubs and bodies with a view to establishing exchange programmes which could be further used to open up chances for Gambian players with good skills to play in Spain. 
The ceremony was chaired by NSC executive secretary Max Jallow.
The Association of Immigrants at Malgrat- de mar is headed by Sana Kanteh and comprised many prominent Gambians who have come together to put resources and minds to contribute to not only their welfare but also development projects in The Gambia.
Read Other Articles In Article (Archive)