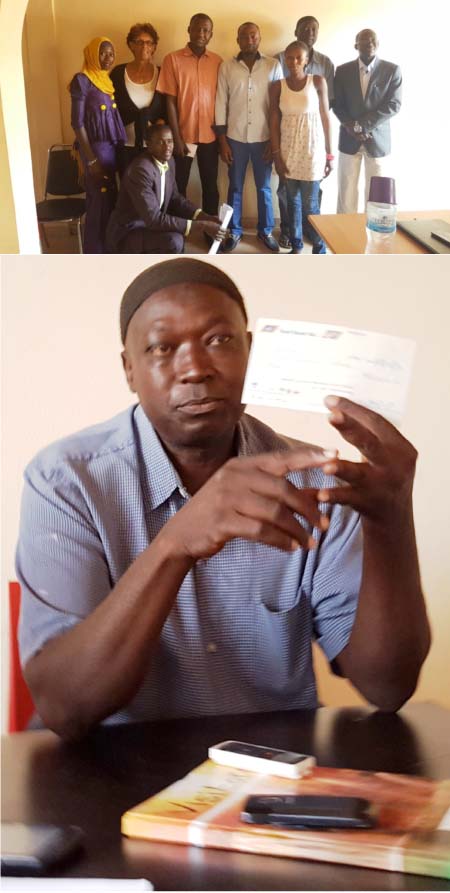 Beakanyang kafo, an independent development and advocacy organisation, last week presented a cheque of D10,000 to the community of Barrow Kunda for the rehabilitation of the village borehole.
Speaking at the presentation held at the organisation's office in Churchill's Town, Famara Jawneh, Beakanyang executive director, said the money is the association's modest contribution towards the rehabilitation of the village borehole.
He pointed out that Barrow Kunda has been facing clean water problem for about three years now due to the poor drainage of its main water supply system.
Mr Jawneh said on 27 March this year, Beakanyang officials had conducted a tour of the community but the main complaint of the people was clean drinking water.
During a subsequent meeting with the villagers, Beakanyang was tasked by the village development committee and the Alkalo of Barrow Kunda to help raise the necessary fund to repair the water borehole.
He said this is why the association did not hesitate to come forward with "their modest contribution" to ease the water problem given "the strong bond of connection" with the community of Barrow Kunda.
"We will not only stop at this, we are trying to raise adequate fund required to restore the water system," Beakanyang executive director said."In fact, I can confidently say that before the Ramadan the water project will surely be implemented."
Beakanyang has been providing support to the community of Barrow Kunda in the area of water for long.In 2003, the organisation dug two wells for the women at the vegetable garden in the community.
Speaking on behalf of the village Alkalo, Kawsu Barrow hailed the organisation for "the worthy gesture".
He said clean drinking water has always been a problem at the community for some time now but the support from of Beakanyang will go a long way in addressing the problem.
According to him, the government alone cannot do all; therefore, institutions and other NGOs should also look up to Beakanyang in investing and improving the lives and livelihoods of the people, especially those in the rural areas.
Read Other Articles In Article (Archive)