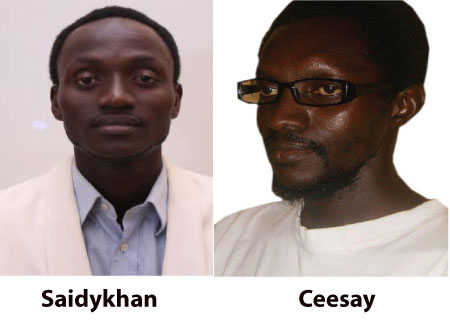 All my ten fingers were printed by the police at the Criminal Records Office when I visited the police on arrival from a week-long course organized by the Institute for Security Studies (ISS) in collaboration with African Centre for Peace and Security Training (ACPST) in Addis Ababa, Ethiopia.
My colleague Abubacarr Saidykhan also went through the same screening while I was away. We do not know what the police really want. We applied for a permit for a peaceful demonstration on 6 September 2012, which should either be approved by giving us a permit or reject us, period.
After visiting my colleagues who have been concerned about my security and our entire case, I deemed it prudent to go to the Police so that they know that I have not absconded, as Saidykhan was facing million dollar questions about my whereabouts in my absence and he boldly told them that I am not the type who would jump bail and abscond.
On arrival at the police station on Thursday 4 October, some officers embraced me. Chanting: "Welcome back, Mr. Ceesay, while others just shook my hand with reluctance."
The guy in charged of our case at the Criminal Investigative Unit of Interpol office at the police headquarters Mr Sillah called a Mr Baye to escort me to the Criminal Records Office where a police lady took prints of my ten fingers.
"Do you know why you are printing my fingers," I asked the gigantic female office. "No," she responded, "what is your crime," she quickly quizzed. I told her I applied for a permit with a colleague to demonstrate peacefully. She just whispered. But I could see her wide conscious eyes continuously twinkling, as if it was smeared with a peppery substance. "Oh! You are the guys," she chuckle.
Our houses were searched what did they find there? Only professional, academic, national identity documents etc. No arms or subversive material was found with us. This followed the printing of our previous published articles from websites which have no link to an application of permit to hold peaceful demonstration.
Despite my charges of incitement to violence, conspiracy to commit felony and seditious intention, Saidykhan charged with incitement violence and conspiracy to commit felony, our case still seem to have topped the busy schedule of the Banjul cops.
As the whole world is waiting for an explanation of what crime we have committed, no particulars of offence has been given to us.
I agreed with a resource person at the ISS/ACPST training themed "Managing Diversity," who said the problem of our continent is not diversity but how it is managed. In our own case, many people have gone to the GRTS supporting the execution and we said it should be suspended and further abolished, hence our request for a permit to demonstrate peacefully for the whole nation and the world at large to know our stance.
Every civilize society must accept diversity of opinion, tribe, religion, political affiliation etc and managed this better so that people will not bet at conflict. Lack of a properly managed diversity in a country would only trigger diversity-related conflict.
If the police cannot give us our permit to exercise our constitutional right to demonstrate peacefully without arms or use their discretion to reject if they wish, we should not be arrested and be detained. Section 25 (d) of our own Constitution of The Gambia says: Every person shall have the right to - freedom to assemble and demonstrate peacefully without arms.
The police should know that they are paid from the money of the tax payers of The Gambia and therefore serve the people without fear or favour, affection or ill will.
Chapter 1, section 1 (2) of the same Constitution says: The sovereignty of The Gambia resides in the people of The Gambia from whom all organs of government derive their authority and in whose name and for whose welfare and prosperity the powers of government are to be exercised in accordance with this constitution.
The police should tell us what they want rather than just telling us to be just reporting after slapping us with all those criminal charges only fit for felons.
The many questions about what the police really want bring to my recollection the case of Socrates, the Greek philosopher, who neither known to have been politically active, nor have spoken in favor of or against the murderous Spartan-supported oligarchy that took power at the end of the Peloponnesian War.
Because of his association with many of the aristocrats who had supported the oligarchy, or because many of his students who were seen as 'others' some members of the regime that followed that oligarchy held him suspect.
He was arrested by the regime who believed in the traditional gods of Athens, and they charged him with not believing the gods of the state, with introducing new gods and with corrupting young people with his talk.
Socrates admitted to the court that he did not believe in the gods of the state and that he had not intentionally corrupted his fellow Athenians. He further told the court that rather than prosecute him they should tell him what course of thought was correct. The court found Socrates guilty and suggested a sentence of death.
Some people believed that if Socrates had requested a reasonable lesser sentence, as was the custom in Athens, he would have given the court an opportunity to reduce his sentence.
They believed that his defiant announcement that instead of being sentenced he should be praised as a public benefactor had shocked the court. So the death sentence stood. Did that really made Socrates wrong in his opinion? No! The naked truth is that the sentence by the court was repugnant to natural justice and history has proven him right.
Good legal decisions should not be repugnant to natural justice.
We seriously want to know what the police want.
Read Other Articles In Article (Archive)