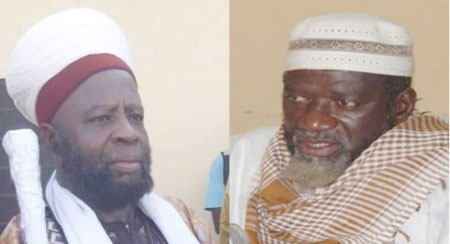 The Gambia Supreme Islamic Council (GSIC) has claimed that the appointment of Sheriff Muhamed Sanusi Nano Hydara from the Majmuatul Rawdatul Majalis as the new president of the country's Islamic Council is illegal.

In a release sent to this medium the SIC said recently, there has been a "spate of irresponsible statements" in the media, coming from a body calling themselves Majmuatu Rawdatul Majalis.
According to SIC, Majmuatu Rawdatul Majalis presented a self-appointed president of a Supreme Islamic Council.
Recently there has been war of words over leadership position at The Gambia Supreme Islamic Council (SIC) between the two organisations, with each claiming to be steering the affairs of the country's biggest Islamic council.
Recall: Last week, the Majmouatul Rawdatil Majaalis, formed a new executive claiming to be the rightful body to lead the Gambia's Supreme Islamic Council (SIC).
This development came barely months after they urged the country's supreme Islamic council to call a congress for election of a new executive. According to them, the current executive's term has long since ended.
However, SIC has also questioned the credibility of the Rawdatul Majlis, saying that they are not registered members of the Supreme Islamic Council, stressing that only registered Islamic Organisations have a say in the selection or election of any leader of the organisation. Below reads the full text of the council's release:
Recently, there has been a spade of irresponsible statements in the media, coming from a body calling themselves Majmuatul Rawdatul Majalis. At first, they presented a self-appointed President of a 'Supreme Islamic Council'.
This made the following pronouncement:
A. "Establishment of a Supreme Islamic Council against the legally established Gambia Supreme Islamic Council, which was inaugurated in 1992, with a Constitution binding all Muslims for the purpose of bringing unity, co-operation and solidarity within the Muslim Community, in particular among the Gambian people in general.
B. Illegal appointments of a President of the so-called SIC and an Executive and most recently regional offices are some of the arbitrary and unconstitutional acts."
"The Majmuatu Rawdatul Majalis have tried and failed to denounce the legally constituted council and have resorted to abuses. We wish to remind the public that the legally Constituted GSIC is a non-government organization established by Government intervention to have a strong working relationship as provided in the Constitution of the Council on all Islamic matters.
The Constitution defines in article 18 the qualification of membership for the Council. Article 35 provides the legal term for membership and eligibility. Article 36 makes provision for the expiration of the legal term and the process for the supervision of general election for the positions of regional offices etc."
"As an illegal body the Rawdatul Majalis cannot therefore come and want to hijack a legally constituted Council as the Gambia Supreme Islamic Council. Unilateral action from the Rawdatul Majalis is a violation of the constitution and should be denounced vehemently and opposed in its strongest terms."
"The Rawdatul Mejalis is not a registered organization to the GSIC, nor attached to any Islamic body. It has no right to the title of Gambia Supreme Islamic Council or call itself Supreme Islamic Council. The Rawdatul Majalis is spreading false information about its existence to the public and the Islamic Institutions. This is totally against the teachings of Islam."
"The mention of personalities in their statements to whom they claim to enjoy their fraternal support is totally untrue. This must stop. The GSIC is using the press and electronic media to clarify what is seen as total false and an irresponsible way by the Rawdatul Majalis to the general public and more directly to the Islamic Umah."
"May the Almighty Allah Guide us on the right path and save our beloved Nation, The Gambia. Amen."
Read Other Articles In Article (Archive)