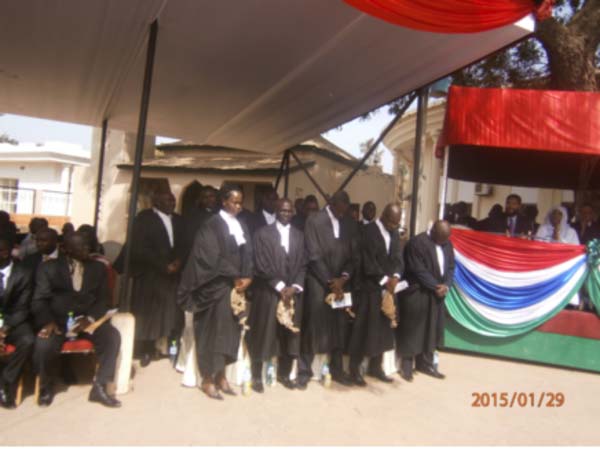 Lawyer Sourahata B. Semega Janneh, a doyen of the Gambia Bar Association, has re-echoed the fact that lawyers are professionals and not businessmen, while delivering a statement at the call to the bar ceremony of 27 new lawyers held at the high court grounds in Banjul on Thursday.
"Some lay persons and, indeed, some lawyers have the sad perception that law (profession) is a business and, therefore, like any other business, the principal objective of the work is to maximize profit," he said.
However, he added, if they are compelled to admit the characterization of lawyering as a business, then they must always remember that "it is a business in which the maximization of profit at all costs is not permissible in the legal profession," which abides by rules prescribing personal behaviour.
In essence, a lawyer is simply a person who is knowledgeable in law to an appreciable level, he said, adding that barristers, solicitors, judges and law professors "are just species of lawyers so to speak."
He said lawyers have been in existence ever since the invention of legal percepts by human society.
Admittedly, he noted, professional lawyers have not been in existence from the inception of law, but then, whether or not a lawyer is professional is relevant to the efficient administration of justice, but not to the truth that wherever there is law there have to be lawyers.
Lawyer Semega Janneh further said it is obvious that, in any country, laws could not be enforced in the absence of persons knowledgeable in law, whether it is today's barrister or yesterday's illiterate advocate in societies devoid of sophistication, who stored in his brain laws, rules and regulations that he was unable to commit to writing.
He said that in the first generation, Gambian lawyers could qualify to practise law only at the law society or in the Inns of Court of England.
In the second generation several common law countries were designated as places where Gambians could study law and qualify for admission to the Gambian Bar.
In the present generation, he went on, Gambians who meet the academic requirements are enabled to read law and qualify as legal practitioners in their own country, thanks to the President and those who contributed their quota to the project of producing homegrown lawyers.
He added that there are too many youngsters who hold the belief that only the now is relevant, saying this attitude might be the cause of the "disproportionate malaise and poor state of ethics at the Bar," when compared to the past.
Lawyers for the great part were held in high esteem for their integrity, honour and service, he said, adding: "I have nothing but admiration for some younger members of the Bar, who have shown great courage and commitment to honesty and hard work to human rights and rule of law."
Lawyers, he added, are known as advocates, as defenders of human rights, as upholders of rule of law, as law reformers, as advisers, as drafters of legislation and documents, as sources of personnel for the judiciary and as role models in society.
"It is incumbent on the Gambia Bar Association to publicly discountenance grave unconstitutional acts or society impacting infractions by individuals or groups that do not form part of the government," he stated.
He said the collective voice of the lawyers must be heard to condemn any attempt to bring down government by violent, undemocratic means.
Read Other Articles In Article (Archive)