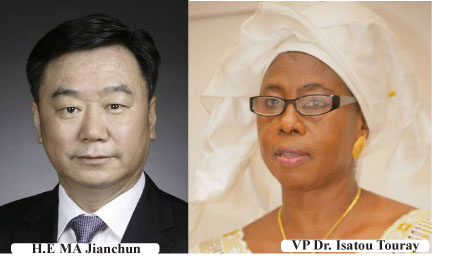 The Ministry of Fisheries, Water Resources and National Assembly Matters yesterday, 6 January, 2020, received office equipment worth two million dalasis from the Chinese government through the Chinese Embassy in Banjul.

The items donated by the Chinese Embassy to the ministry includes 20 desktop computers, 6 TV sets, 20 sets of printers, 20 sets of filing cabinets, 6 sets of air conditioners, 80 boxes of A4 size paper, 5 sets of scanners, 40 sets of toner cartridges and 40 sets of UPS 800F.
Speaking at the handing over ceremony, vice president Dr. Isatou Touray said that the provision of the office equipment to the Fisheries Ministry was an important and timely development, following the unfortunate inferno which destroyed the buildings of both the ministry and the Department of Water Resources on 2 December 2019.
"The fire incident ravaged office equipment, office furniture, important documents and files of both the ministry and Department of Water Resources," she said.
V.P stated that the provision of the office equipment will undoubtedly go a long way in supporting the ministry and Department of Water Resources to settle down and continue their very important work towards national development.
She further acknowledged the efforts by the People's Republic of China, saying that the two countries share a long and common standing bilateral relationship based on mutual respect and recognition of the sovereignty of the two countries since the first republic.
For his part, H.E MA Jianchun, sympathised with the Gambia government on the recent fire outbreak that engulfed the Ministry of Fisheries last month and burnt down nearly all the office appliances.
"In order to help the Ministry of Fisheries tie over the difficulties at an early date, the Chinese Embassy has decided to donate office supplies and equipment worth 2 million dalasi to the ministry," he said.
He emphasised that the Chinese government attaches great importance to the bilateral cooperation in the field of fisheries with The Gambia, sincerely supports The Gambia to take new road of industrialisation and encourages some Chinese entrepreneurs to invest in The Gambia.
The ambassador pointed out that with the approval of The Gambia government, the Chinese investors have brought investment to The Gambia's fisheries sector, bringing stable sales, marketing channel and modern facilities such as cold stores, ice plants, distribution of trucks and so on.
Minister of Fisheries, Water Resources and National Assembly Matters, James Gomez, said the said incident happened at a time when the Ministry of Fisheries, Water Resources was busy finalising the programme of activities to be implemented under the EU/Gambia Sustainable Fisheries Partnership Agreement.
"Fisheries and Water Resources are very important sectors charged with the responsibilities for the sustainable development of both fisheries and water resources," he said.
The minister stated that in 2020, the Ministry of Water Resources has tasked the Department of Fisheries to combat illegal, unreported and unregulated fishing through collaboration and partnership with all relevant stakeholders amongst other tasks.
Read Other Articles In Article (Archive)