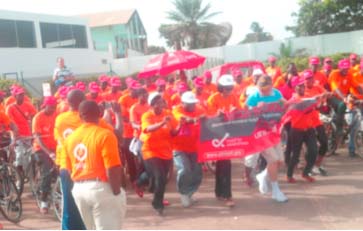 (Monday, June 24 2013 Issue)
The 2013 Starwood Hotel Group and Unicef's annual Road to Awareness fundraising bike race took hold at the weekend with dozens of participants and officials taking part.
The only member of the Starwood Hotel Group in The Gambia, Sheraton Hotel, hosted the event which took the form of the usual bicycle race from Galp Energy fuel Station at the Traffic light to the hotel followed by a fundraising concert at the hotel thrown by Unicef ambassador and kora kingpin Jaliba Kuyateh.
Speaking at the cutting of the ribbon shortly before the race, the General Manager of Sheraton Gambia, Marc Wozniak, welcomed participants and noted that the event is annually held to raise funds for Unicef's projects targeting underprivileged children in many parts of the world.
"This year," Mac said, "the funds would go to Unicef's projects in Nigeria and Cameroon.But I am pretty hopeful and pray that Gambia's turn would come soon.''
The Nigeria High Commissioner to The Gambia, Madam Esther John Audu, described the event as important.
"We are living today to make tomorrow and since children are the assetstomorrow it is important that we take care of them,'' she said, thankingUnicef, Sheraton and all partners of the event.
Also present was the Unicef country director in The Gambia, Aichatou Diawara Flambert, and Unicef ambassador Jaliba Kuyateh, who hosted a concert to raise funds for the event.
Speaking at the concert, Jaliba said he was thrilled and pleasantly surprised by the superb organization of the Sheraton team.
"I was put up here as a VIP in one of the presidential suits for a week ahead of the Road to Awareness Day and I definitely feel at home and proud to be a Unicef ambassador.
'So I am excited with my team and we promise that next year we shall mobilize some ten thousand people for this event,'' he said.
The event continued in the night as Jaliba entertained crowd in the Sheraton Conference hall. Africell, Coca Cola, and Galp Energy partnered for the event.
Read Other Articles In Article (Archive)