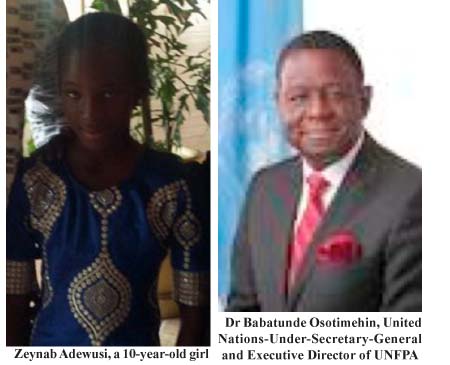 The United Nations Population Fund (UNFPA) yesterday launched the State of the World Population 2016 held at the Kairaba Beach Hotel, with a particular focus on a 10-year-old girl.

This year's theme is: "10: how our future depends on a girl at this decisive age."
"When a girl reaches 10, her world changes:"
A flurry of life-changing events pulls her in many directions. Where she ends up depends on the support she receives, and the power she has that shape her own future.
In some parts of the world, a 10-year-old girl, on the verge of adolescence, sees limitless possibilities ahead and begins making choices that will influence her education and, later, her work and life.
But in other parts of the world, a 10-year-old girl's horizons are limited.
As she reaches puberty, a formidable combination of relatives, figures in her community, social and cultural norms, institutions, and discriminatory laws block her path forward.
By age 10, she may be forced to marry. She may be pulled out of school to begin a lifetime of child-bearing and servitude to her husband.
At 10, she may become property, a commodity that can be bought and sold.
At 10, she may be denied any say in decisions about her life.
At 10, her future is no longer hers. It is determined by others.
Impeding a girl's safe, healthy path through adolescence to productive and autonomous adulthood is a violation of her rights. But it takes a toll on her community and nation.
Whenever a girl's potential goes unrealized, we all lose.
Conversely, when a girl is able to exercise her rights, stay healthy, complete her education and make decisions about her own life, she and everyone around her wins.
She will be healthier and if she later chooses to start a family, her children will be healthier.
She will be productive and make a better living and in turn make the world a better place.
The new United Nations 2030 Agenda for Sustainable Development Goals and it accompanying 17 Sustainable Development Goals aimed for equitable, inclusive development that leaves no one behind.
The 15-year plan promises to help transform the futures of millions of 10-year-old girls, who have traditionally been left behind.
At the same time, many of the sustainable development goals may only be achieved if everyone's potential, including that of all 10-year-old girls, is realized.
Chief among the goals is a vision for a world without poverty. But how much progress can we expect of the enormous potential of girls remains stiffed and squandered?
In many years, a 10-year-old girl's life trajectory will be the true test of whether the 2030 Agenda is a success or failure.
With support from family, community and nation, and the full realization of her rights, a 10-year-old girl can thrive and help bring about the future we all want.
What the world will look like in 15 years will depend on our doing everything in our power to ignite the potential of a 10-year-old girl today", said Dr Babatunde Osotimehin, United Nations-Under-Secretary-General and Executive Director of UNFPA.
Zeynab Adewusi, a 10-year-old girl, in her statement, said: "We hear you adults always telling us that we are the future leaders; that you are building this world for us so that we can achieve our dreams and aspirations, and be able to support you in your old age. In a few years, in 2024, I and other 59 million 10-year-old girls would turn 18 years; we would be adults, but our journey from adolescence to adulthood starts now. The support governments, parents, communities, and concerned adults give these 60 million 10-year-old girls would be the main determinant of the type of collective future we share.
"This world population report encourages you to assure us a brighter future, one that will enable us realize our fullest potentials. We know our journey to adulthood is faced with numerous barriers such as increased risks and vulnerabilities; impediments to health and well-being; violence; limited access to education; uneven protection of human rights and economic obstacles."
However, "we know the government of The Gambia is committed to the cause of children and will continue to provide us the opportunities to flying higher.
"As a 10-year-old girl, like my age mates, we are capable of rapidly absorbing wisdom and knowledge from those around us. When you support us, we can become great and committed leaders, productive workers, innovators, caring parents, and very responsible citizens who can move forward thriving, dynamic societies.
"We urge you to develop policies and institutions which would build 10-year-old girls as human capital through provision of quality education and access to health information and services."
Read Other Articles In Article (Archive)