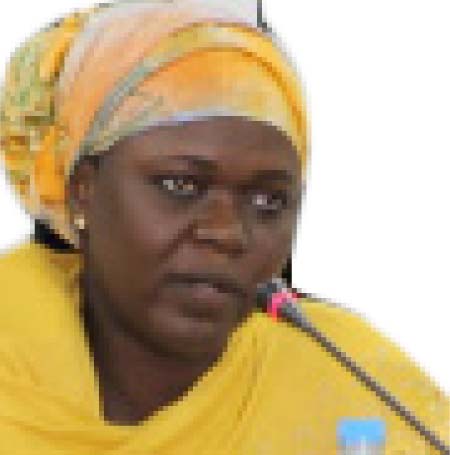 (Tuesday 15th October 2019 Issue)
A witness who testified before the Truth, Reconciliation and Reparations Commission (TRRC) yesterday said four Police Intervention Unit (PIU) officers locked her in a room where a man called Badjie stamped on her chest, breast and down to her private part while dancing.

Sainabou Camara-Lowe, alias Sainy Camara who told the Commission that she was born on 14 November 1980 at Fatoto village. She said she was supposed to complete her secondary education at SOS in 2000, but she could not because of April 10 and 11 students' demonstration which made her go through serious pains.
Explaining the April 10 incident, Mrs Camara-Lowe said they were supposed to sit to examination that day but didn't find many students in the class because the paper they were going to sit to was Technical Drawing.
"A Red Cross volunteer, Samba Njie informed me that there was a demonstration and I asked him to go there and see what was happening. We went together to Serrekunda around the Police Station and saw students running toward us. They told us to run because the police and the paramilitary were after them. We ran towards NAWEC and I saw paramilitary officers behind us carrying batons, seals and guns."
She explained that some of the PIU officers were in front and others behind, saying they had no choice but to surrender because the officers were many.
She confirmed to the Commission that the paramilitary officers told them to raise their hands up, which they did and they were taken to GTTI where they found more than one hundred students. "They kneeled us down under the hot sun. We were there until they came with another group and someone from the group told us not to comply with their instructions because they had already killed someone. Everyone started to run and they followed us with their guns."
Mrs Camara-Lowe said when she ran towards the PIU officers, four of them chased her and she jumped into a compound but one of them from behind held back one of her legs and when they got her, they started to beat her with batons. "One of them opened all the buttons of my shirt."
The witness explained that the PIU officers later took her to their camp at Kanifing and on the way, they were beating and dragging her, stating that her leg was injured and cheeks were swollen.
"When we reached at the camp, they took me to a house with mattress behind. But it was tough before they fell me down. I was sitting down and one of them opened my bag and took my walkman and said to me why would I be going to school using walkman and I told him that is not his business, and he slapped me."
She said the officer called on a man called Badjie to bring a rope and when he brought it, one of them slapped her again and tied her hands behind. As I was lying down, they also tied my legs on my neck."
She said when they maltreated her, she insulted them and one of them slapped her again and the one with her walkman started stamping and dancing on her from the chest, breast and going downwards to her private part with his paramilitary boots while she was still lying on her back.
She said the one called Badjie was still having a baton and beating her on her legs and she was crying but none of them sympathized with her. "When I reached to the hospital, a female nurse called Aunty Njie told me that the people who brought me there had labelled me number 3 among the dead bodies. The nurse realised that I was not dead and she called someone to relocate me but the person told her to leave us because there is nobody who was alive among the group."
She said she was wounded and feeling pain and bleeding on her private part, adding that she was also wounded on her face which were swollen and bruised. "I spent a week in wheelchair because I was not able to walk. A pipe was connected to my private part to enable me to urinate."
She said the nurses did not treat her private part at the hospital but it was only when she returned home when her brother's wife helped her in the treatment with boiled water. "I asked Aunty Njie for the cause of my injury on my private part but she couldn't tell."
She said former President Yahya Jammeh came to visit them at the hospital but before his arrival, one of the victims; Abdou Karim, told her that they should insult him. He added that went Jammeh came, she nodded her head down and when he touched her, she insulted him and told him not to touch her again.
"I didn't want to talk to him because I thought he was the reason behind everything. I also insulted the vice president but any time I wanted to react, they will inject me to calm. I explained to only my late husband Sheikh Bai Lowe what had happened to me because the doctors' report indicates that I wouldn't have a child anymore."
She said when she told that to her husband, he told her that having a child depends to Allah. She said she later got pregnant but had severe pains during the pregnancy. "I gave birth to twins but it was premature. Until now when I am pregnant, my waist will be swollen and if I deliver, the wound on my private part will continue to pain."
She said her father is a farmer at age 85 years and can't pay her schooling and that's why she was not able to complete her schooling. She added that her brother had completed his education but could not find job.
Read Other Articles In Article (Archive)