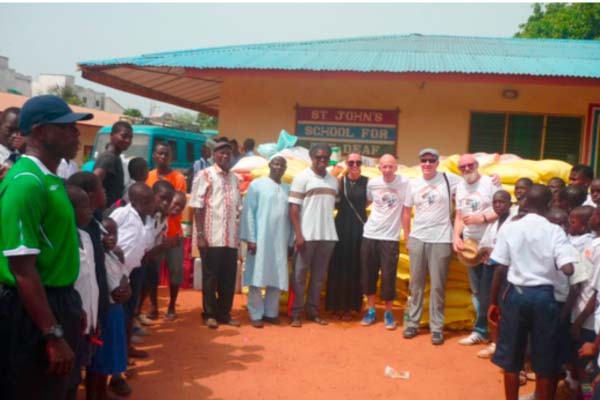 Project Gambia People Feeding People, a Scotland-based charitable organisation, on Wednesday donated food and other items worth D624,000 to St. John's School for the Deaf and Hard of Hearing.

The items included 200 bags of rice, 20 drums of cooking oil, 6 cartons of canned beef, 10 cartons of tomato paste, 12 bags of flour, 10 bags of omo, 10 bags of macaroni, 2 cartons of baking powder, 40 bags of onion, 10 cartons of garlic, 5kg of black pepper, 46 crates of chicken, 1 box of vinegar, and 2 boxes of lime juice. It also included 4 cartons of insecticide, 10 crates of soap, 8 packets of scrub.
The Scotland-based charitable organisation has been supporting St John's School over the past three years.
Frank Devine of Project Gambia said they have been supporting the school on different dimensions but the key aspect of their support is the school-feeding programme.
He said they try to ensure that the children have hot and nutritious meal everyday because it is likely that when they (children) are feed in school they will always be present.
"Education is key for young people as it will give them a chance to escape poverty in developing countries," Mr Devine said.
Paul Lafferty also of Project Gambia explained the first donation they made to St John's School was one thousand pounds; the second was five thousand. The amount increase to ten thousand pounds and now twelve thousand pounds.
"We have also donated seven thousand pounds towards the school uniforms for each student in the school," he said. "We work had all year round to support these children."
Mr Lafferty explained that last year, they brought along with them a dental doctor who helped educate the school children on dental hygiene and also took part in marathons to help raise funds.
Daniel Mendy, Principal St John's School, expressed gratitude to the donors, saying: "If I can pluck my heart and give it to them that is the best I can offer".
He said he understood that the donors have a target of raising up to a million dalasi worth of feeding for children, especially deaf children who are less fortunate, in The Gambia.
Amadou Touray, chairman of St John's School PTA, on behalf of the parents, thanked the donors for the gesture.
"We do not have enough words to thank you but we pray to the Almighty to give you long life, progress and prosperity to be able to continue this," he said.
Read Other Articles In Article (Archive)